Accelerating venture-based innovation
Setting the innovation stage for EXP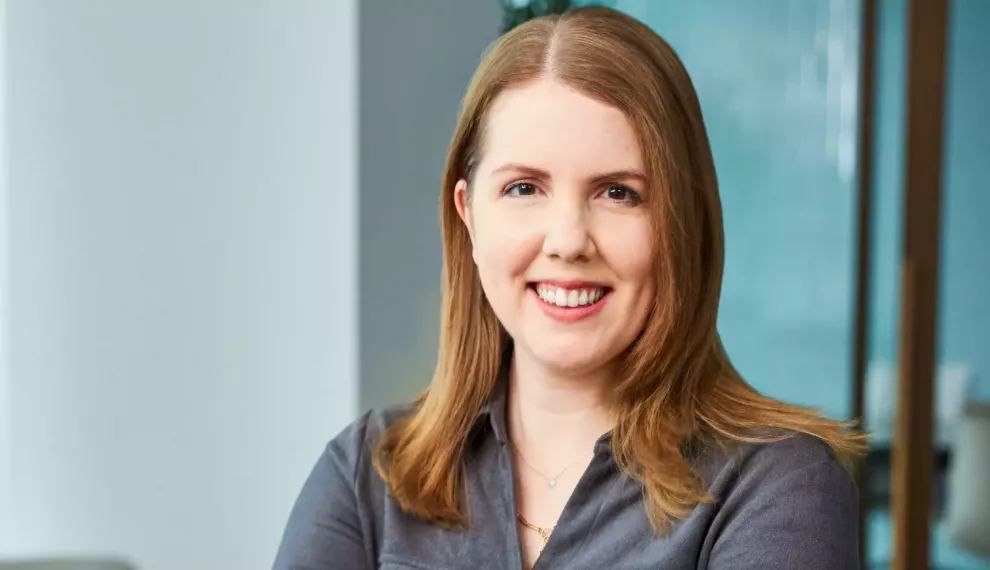 Caption Kathryn Scheckel, Head - Hines Global Ventures
What's the Point?
If solving industry disruption is on your radar, so should be EXP by Hines. This new global business is focused on venture-based innovation that creates exponential value for Hines customers, capital and communities. As a crucial arm of EXP, Hines Global Ventures is internally incubating and outwardly investing in businesses and technologies that directly solve the greatest challenges facing our industry and our environment.
Keynote on Venture innovation
The stage was set at the Global Venturing and Innovation Summit in Monterey, California, where Hines' Kathryn Scheckel unveiled Hines Global Ventures Strategy. Launched in early 2022, the new group is set to curate a portfolio of profitable partnerships by investing in critical sustainability imperatives, and beyond.
The new group helps Hines stay at the leading edge of innovation and create additional competitive advantage. "This is a central way we will drive growth forward for the next 65 years," said Scheckel, adding that the lab complements Hines' real estate investment, development and management businesses. "The time is right, because we see disruptive opportunities in the current environment, we have the luxury of thinking generationally rather than quarterly, to operate from a position of strength in our financial and technical resources."
Three core solution areas
Scheckel's team is highly focused in three areas aligned with the future of commercial real estate.
ESG is a critical investment and solution area to solve for the company and its customers, given 40% of all carbon emissions are generated in the built environment. Hines Global Ventures is pursuing next-generation solutions to address sustainability goals. That will help Hines itself, and others, meet their net-zero operational carbon targets without buying offsets. Learn more about Hines' target.
Evolving real estate uses: Worker enablement through technology and experiences is a top focus for Hines. The team is exploring new hospitality solutions, the shifting trends in hybrid work with an expanded set of flexible real estate product types from the firm's Square on-demand space platform (Visit www.thsq.com to learn more).
Revolutionary technologies impacting the built world: Form machine learning to the metaverse, Hines Global Ventures is interested in everything from ChatGPT to carbon capture and sequestration methods.
A blended strategy: Multiple avenues to accelerate impact
Under Scheckel's leadership, Hines is accelerating built-world technology innovation by combining internal venture building from ideas that come from the firm's entrepreneurial local teams, and that can be scaled in the firm's Venture Studio.
"We know that this firm is sitting on great ideas, and that we want to harvest those from within the firm first and foremost," commented Scheckel. One of those adventures that has already scaled is the firm's T3 building model for positive change that now boasts 26 mass-timber buildings live or under development around the globe.
"Our venture-building platform takes great ideas from within Hines today and puts them through a structured incubation studio to determine which businesses solve real problems, can grow revenue and eventually live outside the firm." In the in-house Hines Venture Studio, the firm has 100% ownership of new ventures and access to clients for piloting and refining new solutions.
Hines will also take direct venture investment stakes—typically a series B round—in external start-ups. "We're looking at accelerating startups that have had some traction, some proof of customers willing to pay, and some appetite from the market, in terms of initial customers to date," Scheckel said.
To top off its approach, Hines will designate funds to take an equity stake in more mature companies that are solving important problems in built-world technology. "We plan to raise a fund of third-party capital commingled with Hines to help support and drive innovative businesses forward," Scheckel said. "When we attract outside capital, it gives us the ability to then move faster, especially in this market moment."
Recent results: Halo disintermediates the sublease
Scheckel pointed to Halo, a concept that Hines has incubated for the past 20 months, as another example of its approach. Halo is an online sublease software service that corporate tenants can use to market and manage excess space available for sublease—a growing challenge as hybrid work means companies need less office space—and reduce operating costs.
Illustrating the power of Scheckel's division, the incubation team interviewed 200 Hines clients to assess the market and test the proof of concept. With access to Hines' nearly 5,000 employees in over 300 cities in 30 countries, and more than 200 development projects active at any given time, the venture team can easily tap Hines' client stakeholders around the world to uncover top concerns and possible ventures to address them. "The ability for a startup team to incubate their product on the Hines platform is really singular," commented Scheckel.
Hines Global Ventures will continue to be laser-focused on creating new solutions for Hines clients and new revenue streams for the firm. While the investments will undoubtedly help people and the planet, the overarching purpose is to create investor value and drive the commercial real estate industry forward.