Modern real estate: Hotel-style living
Bringing five-star experience to multifamily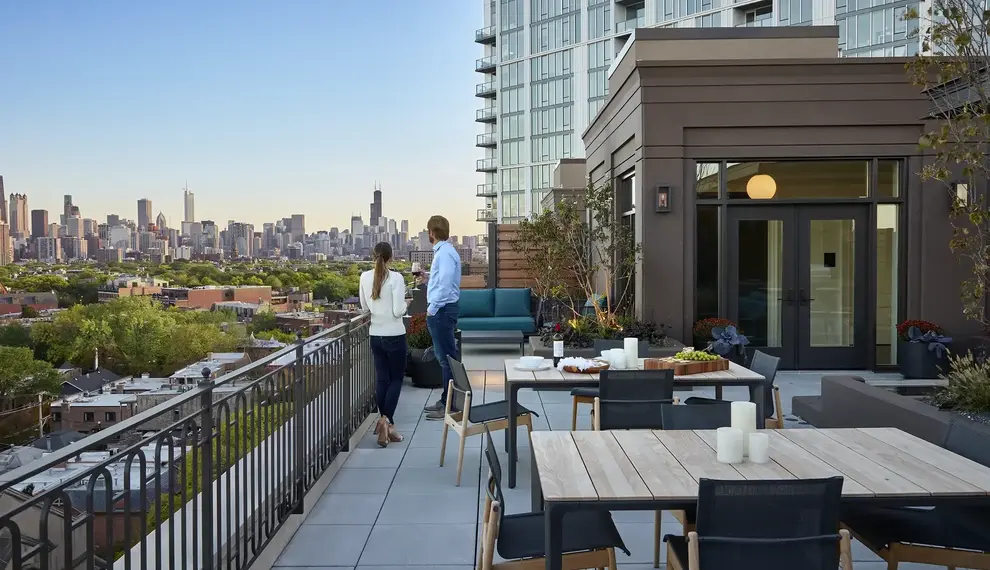 Caption Lincoln Common in Chicago, Illinois
What's the Point?
Multifamily developments have evolved into service-oriented communities, designed to meet the expectations of increasingly discerning residents, especially in urban markets.
The trend is called "hotelization" — when amenities typically associated with luxury five-star hotel experiences are implemented by developers and property managers to heighten both the service levels, and the returns. Flex living, service-oriented amenities and technology-focused solutions deliver convenience, connection and versatility. A wider offering of lease terms and flexibilities also has the potential to lower the financial commitment for today's aspirational residents, who place a premium on wellness and enjoyment.
The changing leasing model
According to a recent U.S. renter preference survey conducted by the National Multifamily Housing Council (NMHC) and real estate consulting firm, Kingsley Associates, flexibility is becoming more important to the apartment renter lifestyle and being delivered through alternative leasing models. This supports hypermobility, sustainability and hybrid/work-from-home arrangements.
Flexible living is not just about the physical environment. Since people are moving faster and not establishing roots the way they once did, they also aim to create an inclusive lifestyle in smaller spaces with less maintenance duties. This allows them to responsibly contribute to a lower carbon footprint in attractive locales that boast cultural attractions, neighborhood amenities and transportation access.
Today's residents have grown up in the era of Airbnb, where all spaces (in theory) can be used as rentals. The pandemic allowed Airbnb to test the limits of its short-term-stay model in the apartment setting, after millions of people uprooted and moved closer to families or warmer climates, work on the road, or explore living in different cities. While apartment renters benefited from having access to these new-found income streams, municipalities and building owners began to assess the pros and cons of allowing residents to engage in these short-term subleases.

This thriving business model, coupled with the expansion of flexible co-living arrangements, where people lease rooms in larger apartments and share common areas with other renters, has materialized on a larger scale since COVID-19.
The multifamily landscape also delivers a whole new level of hospitality, where people can enjoy the comforts of home -- even for a one-night stay. In non-seasonal markets, one to two overnight stays are most common, according to AirDNA, a data and analytics company that focuses on the short-term rental industry.
Apartments meet vacation clubs?
The NMHC surveyed more than 220,000 renters from 79 metro areas and found 56% moved because of a switch to remote work. They also reported they would consider joining a rental housing membership program akin to a vacation club. Similarly, that same group indicated more interest than their non-mover counterparts in listing their rental homes on popular short-term rental sites such as Airbnb or Vrbo.
For those seeking a greater level of permanence plus cost savings, co-living opportunities offer flexibility and additional convenience. Many developments and property management companies supply fully furnished spaces, stocked with cleaning supplies and paper towels, and permit individual lease agreements for each bedroom rather than one contract for an entire apartment.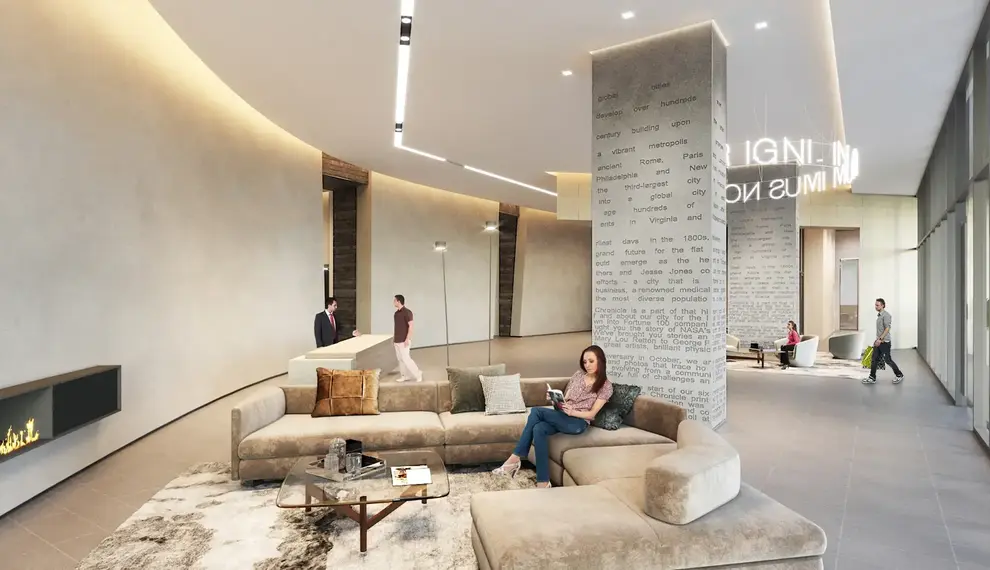 Caption Brava in Houston, Texas
Come Inside: The hospitality experience
In the budding shift toward hotelization, it is clear residents treasure having a flexible leasing model, whether that involves shorter-term leases, the option to sublease their space, or some other curated arrangement. But once they have moved into their chosen building, what amenities and services do they really want as part of their everyday lives?
Hospitality-like experiences are most desired. According to the NMHC survey, the most highly ranked on respondents' wish lists include more community spaces, concierge services, centrally managed amenities, smart home technology and lockers to house their online deliveries, and a relaxing rooftop garden.
From an environmental, sustainability and wellness perspective, noise-reducing windowpanes, sound-proof walls, air conditioning, an in-unit washer/dryer, recycling, pool, and fitness centers also ranked high.
Bringing it all together: Your personal tech butler
Consumers today can gain access to information 24/7, chat with someone regarding a technical issue or book a car service in minutes. That expectation is seeping into the modern multifamily arena.
The hotel-style living experience means renters will receive round-the-clock access to a real person for personalized customer service. Additionally, new technologies give multifamily residents seamless connectivity throughout their buildings so their devices function everywhere for work, social interactions and entertainment. Apartment residents view this widespread technology as a vital bridge to reliable property management support and their security and amenity needs.
"Customers don't want to wait to get answers or service – whether that be opening times of facilities, reporting an issue, or requesting a permit. Uniting a customer service approach with the right tech tools means customers will have a way to instantly get information, as well as engage with the building and their staff," according to a 2021 report, "Future-Proofing Real Estate Through Hotelisation," published by the UK-based Locale.
In the new age building's tech offering, mobile phone connectivity and lightning-fast internet are no longer to be considered a specialty amenity. They are the baseline expectation. Cutting-edge technology found in hotels supporting streamlined maintenance practices, automated security measures and lifestyle management, is the winning ticket.
Keyless entry, front desk manager and mobile apps for things like smart thermostats to remotely control air ventilation and heating, are increasingly becoming part of the equation. This not only increases the overall value for renters, but property owners and developers, who get to maintain their buildings at full occupancy.
Experience Investments Pay Off
A welcoming environment steeped in convenience – that is also highly customizable to the renter– is the key to success for multifamily properties. From tech offerings to gorgeous in-building amenities to flexible lease terms and structures , these upgraded hospitality experience investments are paying off. After all, who doesn't want to feel like they're on vacation?