A stunning beacon for work and play in Shanghai
Award-winning architecture and sustainable design in one of China's most vibrant, transit-connected neighborhoods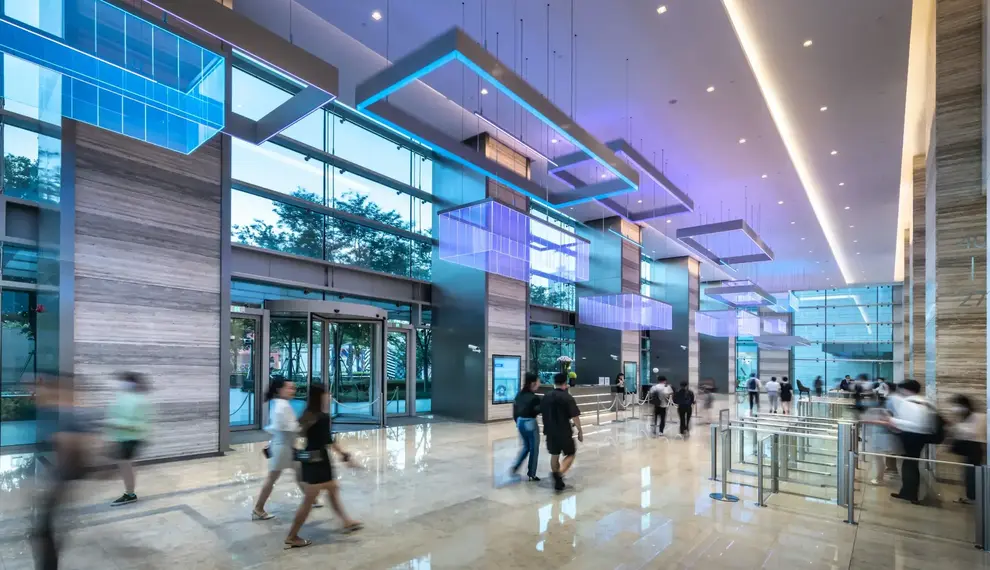 Caption One Museum Place - Shanghai, China
What's the Point?
An extraordinary skyscraper delivers on high aspirations in the heart of Shanghai, with One Museum Place's 60-floor office building and retail pavilion swiftly emerging as the premier workplace address in the city.
A landmark building for a landmark location
One Museum Place is located in Shanghai's historic Jing'an District next to the celebrated Shanghai Natural History Museum and the 16-acre Jing'an Sculpture Park, among one of the largest public art parks in China.
Dubbed "The Pearl of Jing'an", this landmark building joins other crowning jewels of the area, thanks to Hines' visionary decision to shape a world-class work environment for corporate tenants as well as enriching amenities for the surrounding community.
Soaring 250 meters above open green spaces, One Museum Place balances its Gensler-designed modern yet classical architecture, providing a premium Grade A office tower flanked by an attached six-story lifestyle retail pavilion.
The One Museum Place experience: An instant employee favorite
Tenants can appreciate the One Museum Place experience before they even leave for the office in the morning. The transit-oriented development is steps away from its integrated Metro subway station, while also easily accessible to major highways.
Outside, tenants can enjoy the property's lush garden plaza complete with fountains and trees. Inside the lobby, they're welcomed into a grand nine-meter-tall lobby incorporating marble, stainless steel, and glass, complete with LED displays featuring both art and building information. A water wall feature made of Italian marble graces the halls of the Art & Sculpture Gallery in the southern lobby.
From the lobby they'd take one of Shanghai's most efficient elevators up to their floor—all WELL Platinum-certified and boasting floor-to-ceiling windows, three-meter ceiling heights, and column-free corners to allow natural light deep into the space.
Throughout the day, tenants might stroll out to one of the building's large outdoor terraces or get a change of connective scenery in a coworking space. They might also, with colleagues, guests or on their own, head to the building's lifestyle-oriented pavilion. Spanning two large outdoor garden terraces and six levels of interior space, One Museum Place's dining and entertainment options range from food court to restaurants and shops, all supporting a world-class gathering place for business and pleasure.
These personal connections don't end when cold or stormy weather comes—tenants and visitors can always head indoors to the Winter Garden for an all-glass interior space dedicated to art exhibits, musical performances, and other cultural happenings.
A shining example of environmental commitment
The One Museum Place development team prioritized sustainability from the beginning, throughout design, construction, and operations. That means energy-efficient systems, water recapture systems, and multiple health and well-being elements are all intentionally embedded into the development.
Exemplifying this sustainability leadership: One Museum Place received a five-star rating from GRESB in 2023. It earned the ULI Asia Pacific Award for Excellence in 2022 and the Sustainability Achievement of the Year by RICS China Awards in 2021. In 2019, One Museum Place was one of the first LEED® Platinum office towers in Shanghai and won Best Green Development from MIPIM Asia Pacific Awards the same year. The property is among one of a few buildings in Shanghai to have garnered this many well-recognized awards.
The building's focus on environmental outcomes intersects most clearly with its commitment to the human experience, especially when you consider its RESET clean indoor air certification. One Museum Place offers the cleanest air commercially available, with precisely monitored and controlled temperature, humidity and filtration systems kept in continual check by a full-time, on-site air quality manager.
Delivering a bright new future of work—and community—in Shanghai
Today, One Museum Place is a thriving commercial center that activates the entire neighborhood with connective social experiences. It provides a sense of place not only for tenants but for the community, making the museum and park more accessible to all.
And it gives employees and visitors alike an opportunity to engage with one another across a variety of spaces – sparking ideas, savoring culture and scenery, or simply taking time to recharge in one of the city's most beautiful, dynamic, and inspired new mixed-use settings.