A single-family trend ignited by regional success
Build-to-rent alternative gains ground in multiple regions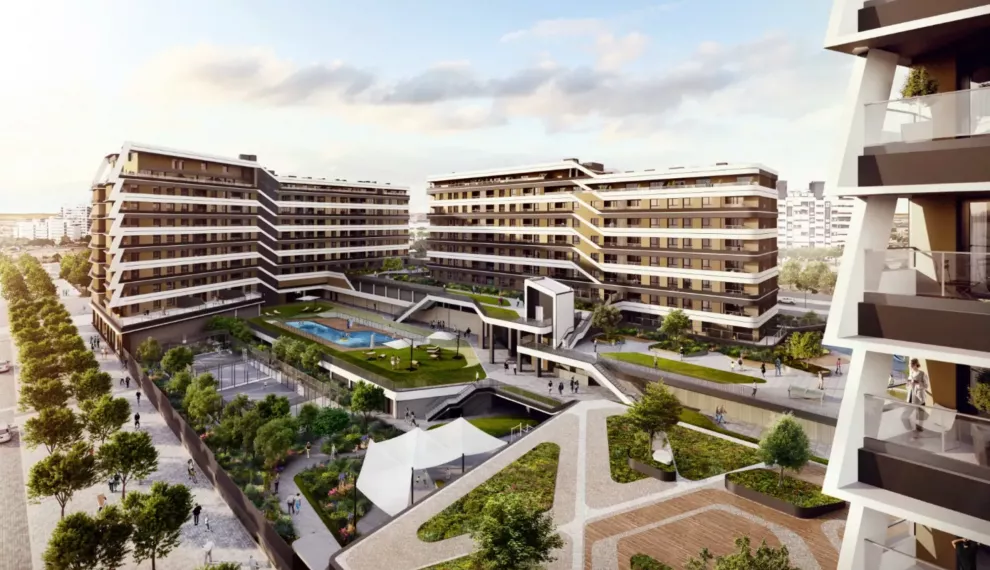 Caption Skypark Valdebebas - Madrid, Spain
What's the Point?
An alternative to the traditional single-family home market has emerged – single-family build-to-rent (BTR). The BTR market has been growing in Europe and Asia – and is poised for significant growth in the U.S. over the coming years given renters gain the advantages of homeownership minus the commitment and financial burdens often associated with buying a home.
Developers build purpose-built residential communities explicitly designed for rental purposes in the build-to-rent model, as opposed to developing master-planned communities designed for individual sales. This concept is gaining traction in the United States (U.S) as interest rates rise and affordability plummets for the millennial cohort, following its broad implementation in Asia and Europe. Investment and renter demand are now gaining ground in the United States.
Across Spain, the United Kingdom (U.K.), Japan, South Korea, and Germany, build-to-rent communities have emerged as fundamental pillars of their housing markets. In fact, according to a report by JLL, build-to-rent stands as the fastest-growing sector in British real estate, with supply soaring by more than 50% annually since 2015.
BTR's Vital Role
In local communities, build-to-rent communities alleviate rental housing shortages by stimulating supply and curbing inflated rents. For investors, the build-to-rent market offers an attractive opportunity to capitalize on higher yields and strong long-term growth forecasts.
Hines believes in the sector's potential due in part to the stability of income, according to Jon Tanaka, country head of Japan for Hines. He says the firm is dedicated to pioneering advancements within the BTR market in APAC.
Over the past year, Hines has launched three projects in Australia demonstrating this commitment. Our strategic partnership with Cadillac Fairview plans to acquire assets worth up to AUD 1.5 billion in the Australian BTR market. In May 2023, we unveiled another build-to-rent acquisition, strategically located in the vibrant residential suburb of South Melbourne.
In Asia, as in many regions of the world, several factors are coalescing to make BTR attractive. According to Sam Bisla, managing director and head of living for Hines Australia, "Supply has crashed and is at a long term low and we have a demand spike that is accelerating the thesis for build to rent in Australia," he says. On top of that, the global affordability crisis adds to BTR's attractiveness as a sub-sector.
Recently introduced, Skypark Valdebebas, has made a significant impact in Spain. Located in one of the city's fastest-growing residential districts in the northeast, Skypark Valdebebas offers more than 333,000 square feet of prime residential space.
BTR's Rise
The shift in housing preferences among millennials and young professionals has played a significant role in BTR's rise—especially as a market trend in the United States. This generation – one that highly values flexibility and convenience – has shown a preference for renting rather than owning homes.
BTR communities offer an opportunity to enjoy the benefits of homeownership, such as spacious living areas, outdoor space and access to amenities, while maintaining the freedom to relocate or adapt to changing circumstances. Another key component is the demand for rental options that cater to diverse income levels.
Last year, Hines made its first entry in the BTR sector in Surprise, AZ, alongside JV partner New York Life Insurance Co. to develop Enclave Point, a 160-unit community. At the time, Jim Bulsiewicz, director at Hines, pointed to the significant population growth from commercial development along Route 303 and corporate relocations were a main selling point. Enclave Point provides residential options that live like a single-family home, but provide the amenities traditional multifamily renters have grown accustomed to such as pools, fitness centers, explains Bulsiewicz.
The Future of BTR in the U.S.
Mirroring global growth, the build-to-rent market in the US is poised for significant growth in the coming years. Major real estate developers and investment firms have recognized the potential of this sector and are actively investing in build-to-rent projects based in part because for-rent residential markets continued to have solid fundamentals.
Overall, the rise of build-to-rent in the US reflects both economic realities and changing housing preferences. As the BTR trend gains traction, we can expect to see a diversification of offerings and an expansion of locations. Developers will likely focus on establishing build-to-rent communities in both urban and suburban areas, offering a wide range of housing options to meet the diverse needs of renters.
To learn more about how we are creating healthy, productive communities people love, visit: