How can ground plane strategy impact new development?
Creating a sense of arrival long before the front door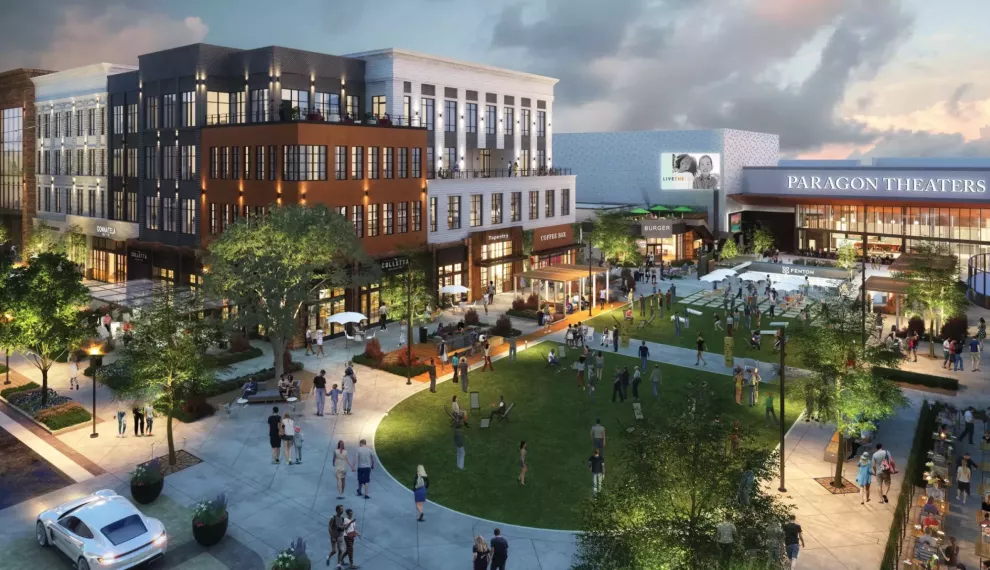 Caption Fenton - Cary, North Carolina
What's the Point?
The stakes are high when developing dynamic mixed-use developments, large downtown office towers and modern sports venues. In fact, impressions are born in the first 40 feet of experience—where the building meets the ground. The challenge facing owners and managers is how to develop that first impression, creating experiences that capitalize on the physical attributes of a location while also cultivating positive interactions with the surrounding community. The result should be a sense of place steeped in comfort and hospitality.
Walk This Way
Think of a busy street and a few dozen pedestrians. Each person—an office worker, a resident, a shopper or someone taking a stroll around the neighborhood—has expectations about the surrounding built environment. Every structure they encounter is part of a broader social ecosystem that contributes to human immersion, wellness and fulfilment.
Architectural solutions alone—which provide form, function and visual interest above ground level—don't always impact how a person feels when moving in front of, around and through a building. The ground plane experience highlights the need to balance natural attributes with curated design that encourages human activation and immersion.
In-ground plane strategy, no detail is too small—things like landscaping, public art installations, outdoor space activations, open space, vehicular movement, lighting and signage, door placements and more—all impact the immediate human experience. That's why it's so important to have a strategic, well-thought-out approach to the ground plane design long before a shovel hits the ground.
40' of Opportunity
Ground plane strategy is complex because multiple factors are difficult to control. In addition to the first 40 feet, the planners must give focused attention to the entire arrival experience. But how far does that influence extend? Integrating public access points like alleyways and crosswalks into the overall ground plane approach helps to give pedestrians a consistently themed and pleasant journey—and boost the property's desirability.
But how do you influence spaces located within the public domain? Hines taps local infrastructure networks to improve the user experience above and below ground by encouraging movement in and around its developments. By partnering with municipalities, we ensure that the right infrastructure is in place to act as a critical gateway to the development.
Experiential leaders in Hines' Conceptual Construction Group underscore the potential of the space between the buildings. In one project, the planners were inspired to develop themed passages, moving from the parking garage to a central lawn to more than 2.5 million square feet of mixed-use buildings. The urban, pedestrian-focused experience now features seven distinctly designed paseos (alleyways) that lead to active restaurant patios, varied storefronts, gathering areas programmed with events, and landscapes and hardscapes that contribute to the street-level energy.
Connection and authenticity
The functionality of spaces continues to blur, and large cities and the developments within them are scrambling to find a competitive advantage. The answer lies in an innovative and consistent ground plane strategy that brings a distinct, customer-centric and authentic brand experience to the property and the surrounding areas. This powerful planning tool delivers spaces where people want to be, with human interaction and community connection coming along for the ride.
To learn about our Conceptual Construction Group (CCG), a team of subject matter experts setting new standards in quality, innovation, sustainability, and long-term value, visit: