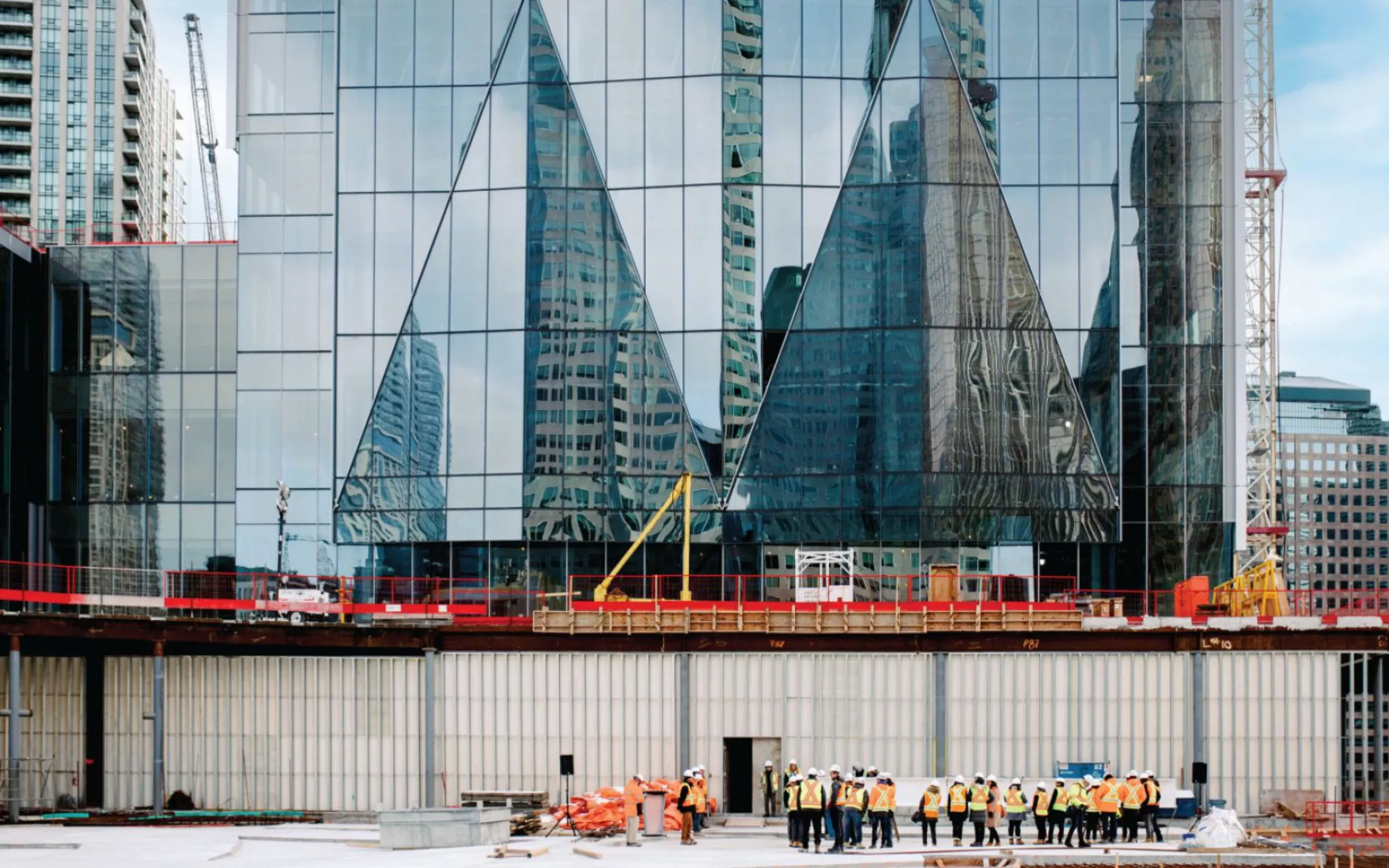 What's the Point?
It can be challenging to build institutional-quality structures, but taking a risk-managed approach creates a process that helps the development remain efficient and profitable. Few know how to solve development challenges better than Hines' Conceptual Construction Group that consistently delivers buildings that set new standards for quality, innovation, sustainability, and long-term value.
If you're taking on a new development with loads of risk ahead, heed these best-in-class practices to deliver.
Benchmark the Competition
Benchmarking the competition is vital to ensure long-term value and market position in a competitive submarket. It is necessary to conduct market research and utilize local teams for boots-on-the-ground intelligence. Identifying key properties of competitors and finding quality advantages is important to differentiate from competition and avoid costly overdesign. Pre-establishing competitive marketing and leasing selling points can help secure the company's position in the market.
Select the Right Design Team
Selecting the right design team and simplifying complex relationships in the design process can significantly benefit the construction process. Managing creative conflicts between architects, engineers, and consultants can result in imaginative yet buildable and affordable projects. Disciplined management and a tiered contract structure provide a single point of responsibility and streamline coordination. Using proven, proprietary contracts can mitigate ownership risks and provide builders with greater confidence in the design process.
Analyze Fundamental Building Systems
Analyzing fundamental building systems during the development phase is another strategy that can help provide significant benefits to a construction project. Aligning with the client's needs by evaluating proposed systems against client-established criteria, integrating operational input from property and facility management personnel, leveraging operations feedback and lessons learned from prior projects, and incorporating an owner's perspective into the design can help ensure that projects stay on budget and meet clients' needs.
Provide Precise Budgets and Schedules
Providing precise budgets and schedules is vital to deliver projects on time and on budget. Utilizing budget experts that work closely with the project team to identify all potential costs and risks, estimating the cost of materials, labor, and other expenses, and accounting for potential risks that may affect the budget or schedule can save time and money by reducing the need for time-consuming value-engineering processes.
Coordinate Design and Construction Details
Working closely with the project design and construction teams to coordinate and test every drawing and design detail against the established criteria and budget is necessary to maximize efficiency and minimize errors or omissions prior to purchase. Lowering construction pricing by using highly coordinated plans and specifications, avoiding field construction surprises with detailed advance "clash" coordination, and reducing change orders can help minimize the risk of innovation prior to purchase.
Secure Cost-Efficient Contracts
Using a construction contracting strategy that aims to minimize costs by shifting a reasonable amount of risk onto the general contractor (GC) can help you obtain cost-efficient contracts. Seek competitive bids from various GCs to secure the most favorable pricing for fees, overhead, as well as structural and site work. Partnering with GCs to select subcontractors, incentivizing GC accountability, minimizing payment duplication and gaps, soliciting cost-saving ideas, securing fixed-rate contracts, and giving owners the right to audit GC's books are other strategies to secure cost-efficient contracts.
Expedite Transition to Construction
Establishing a local point of continuity, typically the local construction manager, is essential to ensuring a smooth transition from design to hands-on construction execution. This local manager acts as a liaison between the project teams, overseeing that project goals are met from design through delivery and closeout. Daily site visits help anticipate problems and resolve any issues quickly, reducing delays and ensuring that the project stays on track.
Manage Commissioning and Closeout
Implementing best-in-class practices can help minimize risk and deliver superior buildings that set new standards of quality, innovation, sustainability, and long-term value. Benchmarking the competition, selecting the right design team, analyzing fundamental building systems, providing precise budgets and schedules, coordinating design and construction details, securing cost-efficient contracts, and expediting the transition to construction are essential steps in ensuring the success of a construction project.