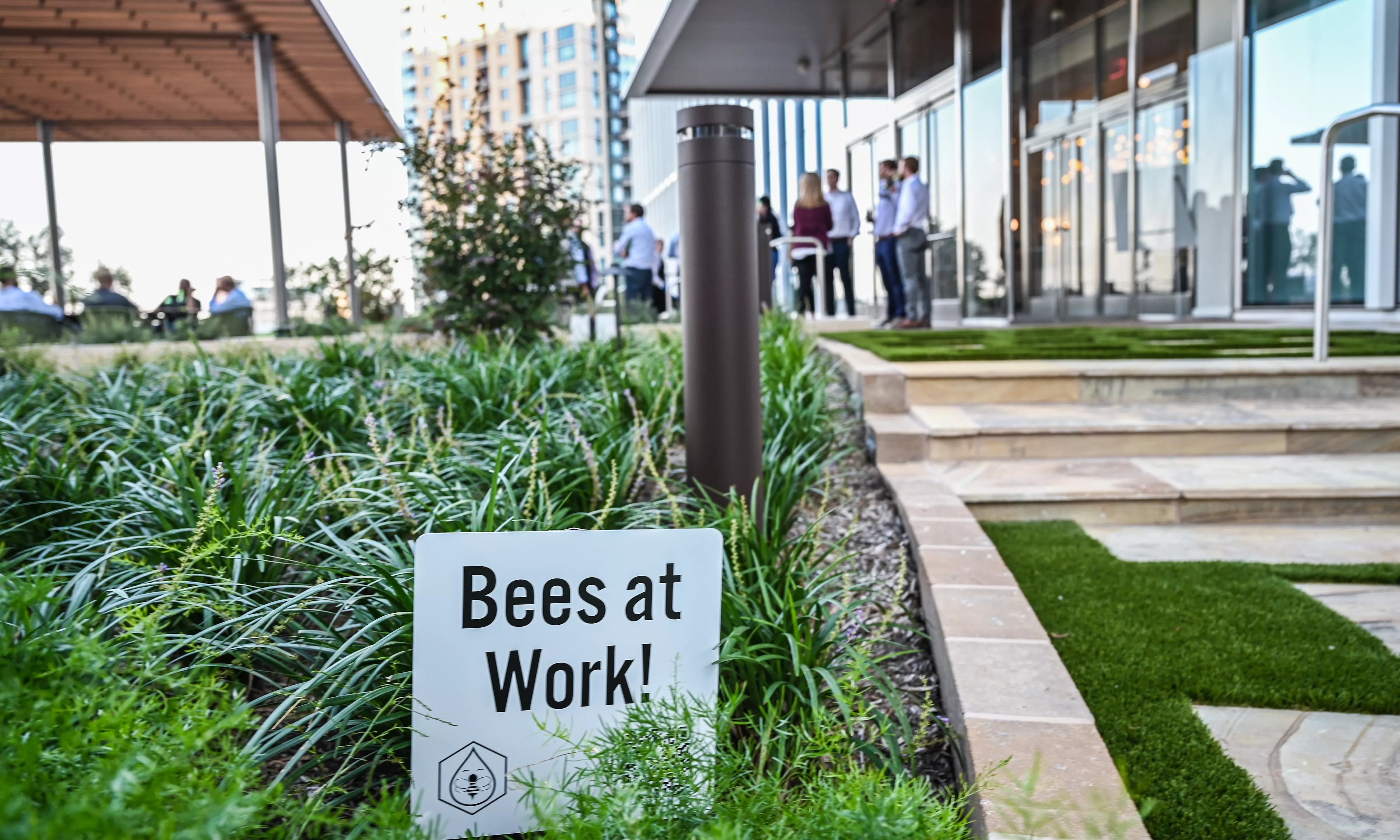 What's the Point?
Wild bee populations around the world are declining in response to multiple threats. While honeybees are tiny, their role in the global food supply is enormous. Through pollination, honeybees and other types of bees and pollinator insects help ensure that plants create fruits and vegetables essential for our wellbeing. However, wild bee populations around the world are in decline.
Hines is doing its part to proactively address the problem across many of its office properties with installations of onsite beehives across a number of office properties around the world.
Declining bee populations
While global estimates are not readily available, the wild bee population has declined due to habitat loss and degradation, parasites and improper use of pesticides and herbicides, and other contributing factors.
Urban development typically reduces and degrades wildlife habitats. We see urban beekeeping as a way to inspire curiosity, bring people together, and connect city dwellers to the natural world. What's more, the hives and resident honeybees provide an interesting context to discuss critical issues facing our environment and agricultural systems.
"For many years, the management of Hines properties has focused on the sustainability of real estate, in particular on minimizing operational CO2 emissions," says Ulrike Dreykluft, Hines' ESG manager in Germany. "But the properties also have an impact on the environment, both in terms of users and the ecosystem. By involving the bees onsite, we're contributing to increasing biodiversity in the middle of the city."
At Tucherpark in Munich, fresh honey—produced by onsite beehives—is the latest gastronomic delight in the vibrant live-work-play community. Home to approximately 75,000 fuzzy, buzzing new residents, Tucherpark is one of a growing group of Hines properties providing urban homes for threatened wild bee populations.
Bringing nature closer to tenants and residents
As an added benefit, the hives reconnect tenants and residents to the larger natural world. Urban beehives can be useful for educating people about imperiled bee populations and inspiring environmental stewardship.
At Chicago's 300 North LaSalle office tower, for instance, Hines property managers hosted "Discover the World of Bees", a seminar-style workshop. A beekeeper discussed the lifecycle of a honeybee and led a discussion and honey-tasting session with tenants.
In New York City, teams at 383 Madison, 410 Madison and 5 Manhattan West have hosted virtual events where colleagues could meet their local beekeepers, learn more about urban beekeeping, ask questions and witness a live hive opening.
At Santa Clara Towers in Santa Clara, California, residents can even visit an online portal to see how many miles the bees have traveled each day and the hives inspection sheets revealing hive activities health status.
"The decision to bring in the urban beehives came organically, as we are passionate about sustainability and the opportunity to engage our tenants in our sustainable practices," says Tatiane Martins, property manager for the LEED Gold-certified Santa Clara Towers. "The experience has certainly challenged us to BEE brave!"
Along with the other benefits they provide, onsite beehives can help an office or multifamily property stand out from the competition. Santa Clara Towers, for example, is raising the bar as the only building in Santa Clara that produces honey. Most important, beehives are a unique amenity that delights and engages tenants—an important priority at Hines-managed properties.
Initiatives like urban beekeeping help our clients attract and retain employees and tenants who care about the environment, and we look forward to bringing bees to other Hines properties in the years to come.