Grainhouse: Bold new purpose for a historic London corner
Next-generation flagship workplace design pairs period charm with modern amenities in storied Covent Garden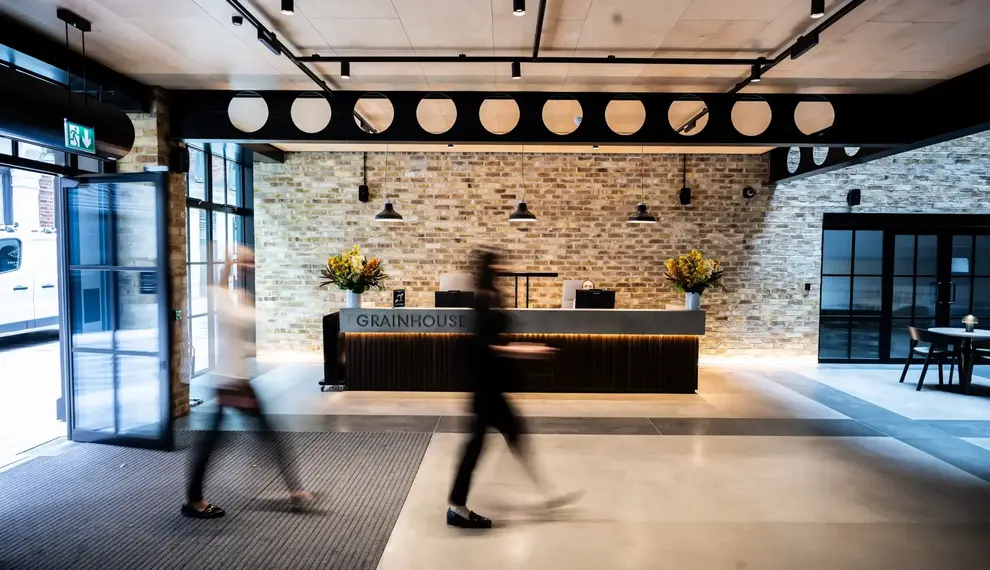 What's the Point?
A state-of-the-art office and retail scheme goes against the proverbial grain, for a reason. The Grainhouse reimagines a charming historic warehouse complex as a magnet for talent in the heart of London's vibrant West End. Within these lovingly restored brick walls, striking design, excellent amenities, and sustainable facilities combine to deliver happier, healthier ways of working.
Envisioning a place for the future—with respect for a storied past
Designed by architects Barr Gazetas, the 91,000-square-foot Grainhouse is the new home to Hines' European headquarters, and owned by the firm's European Value Fund 2 (HEVF2). The flagship property provides a world-class work and social setting in one of London's most vibrant neighborhoods.
Once home to a Victorian seed warehouse, Grainhouse created one new modern space from four buildings, each with its own distinct history. The first was once a seed merchant , until it was destroyed during World War II, and later refurbished for use by King's College London. The other buildings each have their own historical significance, too, housing London's oldest livery company, Whitefield Chapel, and a brass and iron foundry showroom.
Outside these doors, the neighborhood has its own rich history. Around 1200, this site was recorded as Westminster Abbey's convent garden (later known as the Covent in Covent Garden). Then in 1630, the piazza became England's first formal public square.
After the Great Fire of London in 1666, the square became less a place to live, and more a bustling fruit and vegetable market. Other merchants joined the mix, with drinking dens drawing even more people to the bustling neighborhood.
Six decades later, high and low brow intertwined when the Royal Opera House opened here in 1732. The first Sainsbury grocery store made its debut in 1869, and in 1915 the grain house opened, helping establish the area as the heart of London's food and industrial supply scene.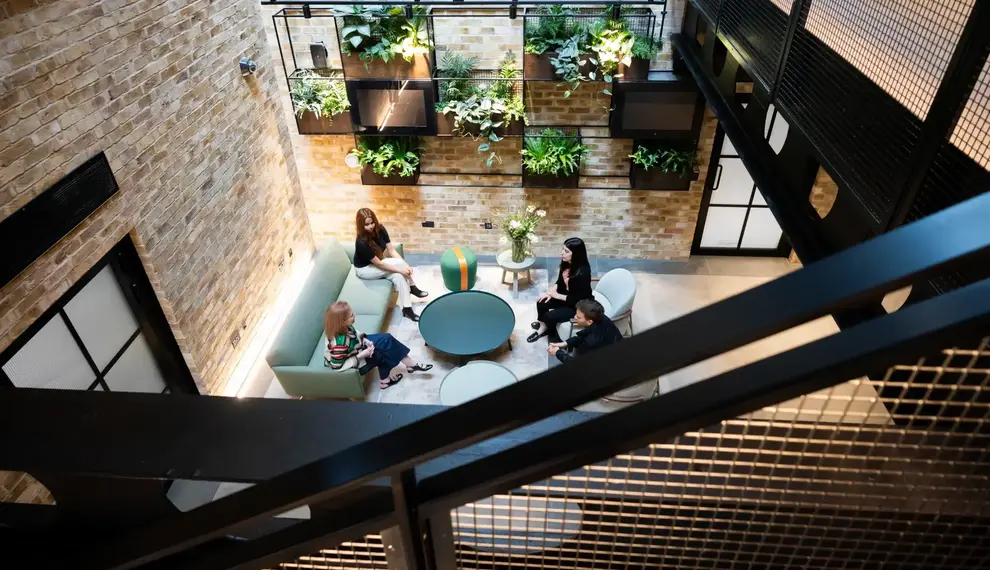 A new destination for innovation today, and beyond
At this intersection of past and present, Grainhouse brings the future of work crisply into view. Let us count the ways:
Fueling hybrid, activity-based work. Grainhouse offers expansive and flexible office spaces on multiple floors, complemented by breakout and touchdown areas for informal meetings and relaxation. To unwind, socialize, or just take a brain break, teams can take their pick of 15,000 square feet of diningand retail options, from the fifth-floor café to a popular games room. The future-ready development is also designed to achieve WiredScore certification, so employees can easily stay connected wherever they work.
Leveling up employee convenience. Grainhouse offers all tenants access to its bespoke mobile app, which helps employees navigate their daily experience with ease, from engaging support services and ordering catering, to booking meeting rooms, managing visitors, and options to to take advantage of local business discounts.
Convenience continues as a theme throughout the physical space, too, including bookable lockers of various sizes and, for cyclists, bike storage and end-of-trip amenities including showers and bike repair stations.
Creature comforts on tap. No space need be too cold or too hot — "just right" is always available on-demand, with smart technology in place to ensure environmental control across Grainhouse. The building is also designed to achieve WELL Platinum certification, boasting thermally and acoustically ideal spaces with monitored indoor air quality. Biophilic design assures natural light is always on display throughout the interior; while outside, a communal landscaped terrace connects teams with nature, complete with native plant species and nest boxes.
Location, location, location. Situated near iconic venues like West End theaters and the Porterhouse brewery, Grainhouse's landmark Drury Lane address gives tenants front-row access to everything Covent Garden has to offer, from iconic restaurants, luxury boutiques and needed services to cultural venues and a few secret gardens. Many employees also enjoy an easy morning commute, thanks to the property's close proximity to multiple Tube stations. Note to employers: This includes access to the new Elizabeth Line, which helps unlock access to 20% more talent within a 45-minute commute.
From grain to green. Sustainability is a core focus, with Grainhouse targeting net-zero operations and already reducing embodied carbon by retaining as much of the original structure and materials as possible.
Engineered to achieve BREEAM Excellent certification, Grainhouse ultimately expects to slash construction carbon emissions by 60%, cut operational emissions by 61%, and achieve a 40% reduction in water use in Hines' continuing commitment to sustainable development.
Claiming its own space in history—while rewriting the future
A great building deserves a great story. Grainhouse delivers on that promise, and far more: by bringing a flagship workplace with heart into the heart of this central London neighborhood, Grainhouse sets a bright new standard for the future of work.