A community-driven vision: How Riverwalk will redefine town centers
Paving the way for sustainable urban development and inspiring positive, inclusive change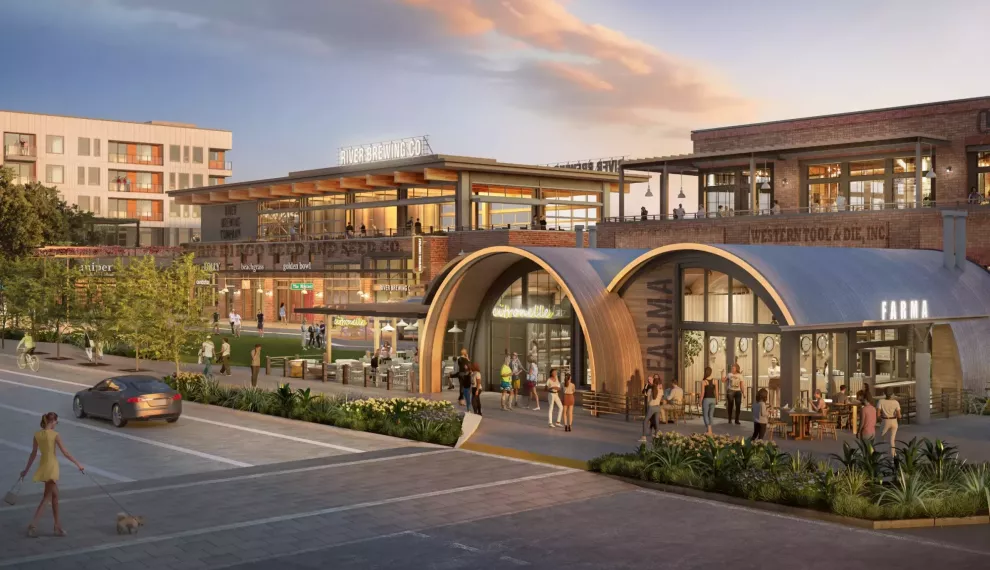 What's the Point?
Riverwalk, a groundbreaking town center project currently under construction in San Diego's Mission Valley submarket, represents a transformative shift in urban development for the city.
With its innovative design, connection to nature, seamless connectivity, and an array of inviting amenities, Riverwalk, when complete in 2025, promises to be a vibrant, inclusive, and sustainable community that sets a new standard for urban living in San Diego.
Bridging the Gap: Integrating Housing Demands with Nature and Connectivity
Spanning 200 acres alongside the San Diego River, Riverwalk aims to address the pressing housing needs of more than 8,000 residents. With five residential buildings ranging from five to seven stories, the project offers 152,000 square feet of retail space; and one million square feet of office or life science space. Valuing inclusivity, Riverwalk incorporates 4,300 residential units, encompassing a variety of living spaces from studios to townhomes. Notably, it allocates 430 units for affordable housing, ensuring diversity and accessibility for various lifestyles.
Decades in the making, Riverwalk's vision extends beyond the practical to embrace the tranquility of nature, creating a haven for residents to escape the urban bustle while promoting an active and healthy lifestyle. At the heart of the community lies a vibrant retail village and central green, serving as a lively hub for families and friends to enjoy outdoor gatherings and experiences.
The project's design integrates over 100 acres of parks and open spaces, ensuring ample opportunities for relaxation and recreation. Additionally, Riverwalk introduces the area's first-ever grocery store, further addressing crucial community needs.
Unparalleled connectivity is also key at Riverwalk, offering multiple transportation options such as trains, bike paths, and the scenic San Diego River Trail – all of which reduce the community's daily dependence on automobiles, ensuring seamless mobility for residents and visitors alike.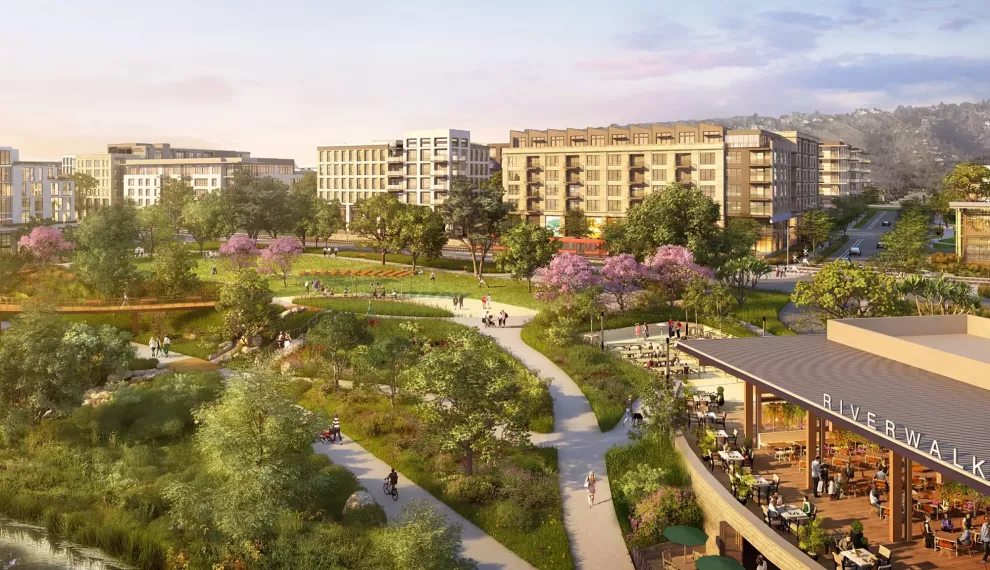 A Wealth of Inviting Amenities, the Allure of San Diego
Riverwalk's planned amenities mix the cultural allure and vibrancy of urban living with the intimacy and hassle-free experience of small-town communities. The highly anticipated Dog Bar, exclusively designed for residents, provides a relaxing spot with TVs, beers on tap, and an off-leash dog park. Residents will also have access to a 10,000-square-foot gym, lounges, five pools, golf simulators, a recording studio, makers space, plant potting station, and wine bar, further enhancing the appeal of this exceptional environment. From shopping opportunities to expansive parks and farmers' markets, the project keeps the needs of residents at its heart.
Speaking of hearts, Riverwalk will brighten one of the West Coast's city gems. San Diego's thriving and dynamic community is built upon a robust and diverse economy, accentuating sectors such as technology, biotechnology, defense, tourism, and research. Beyond economic prowess, San Diego's climatic allure with delightful temperatures year-round further enhances its appeal. Serving as a cultural melting pot, the city draws individuals from across the globe, fostering a vibrant tapestry of diversity. A keen sense of unity and camaraderie thrives within the community, enriched by an active arts and culture scene, encompassing an array of museums, galleries, and theaters. Riverwalk is set to redefine urban living in San Diego's Mission Valley, offering a host of benefits that cater to San Diego's diverse lifestyles.
When construction began in 2022, Hines Director Pete Shearer said that the day marked the start of San Diego's next great neighborhood. He noted that "We have an opportunity, with the size of this site, to create something that San Diego has not seen yet, and that is a place open to the public, that is designed for the pedestrian and is activated by retail on all sides. It's the perfect project for a post-COVID world."