Elevating creativity and community on the Parisian skyline
The instantly iconic Tour Hekla unites creative experience and sustainable modernity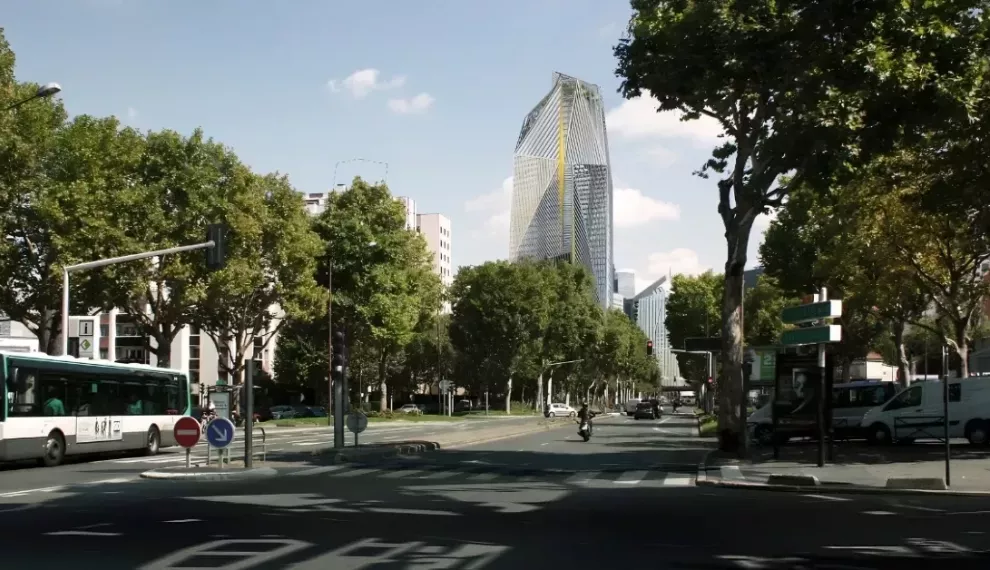 Caption Tour Hekla - Paris-La Defense, France
What's the Point?
A visionary new skyscraper is elevating creativity and community on the skyline of Paris La Défense. Made of metal and glass, the prismatic Tour Hekla offers unprecedented views with innovative workspaces dedicated to social connection, well-being and all-around excellence.
Tour Hekla: Where creative spaces converse with the sky
In 2012 renowned architect Jean Nouvel – together with co-developers Hines and AG Real Estate – set out to invent a new world of work in Paris and started construction on a new office tower spanning 49 floors and 220 meters in height, infused with light and greenery, and designed to spark ingenuity.
The building's distinguishing façade features shades of amber balanced throughout its 45,000 square meters of solar panel glasspunctuated by terraces on all levels. A wooded and sheltered roof terrace, complete with hanging garden, offers panoramic views over Paris and La Défense, Europe's leading business district.
Inside, the ambitious project enlisted a diverse team of workplace mavericks, each a specialist in their respective field: philosophy, sport, universal accessibility, artificial intelligence, restaurants and design. Upon opening in fall of 2022, up to 5,800 employees will enjoy authentic experiences across 76,000 square meters of offices and services.

"In current times, we need architecture, especially when we want the workplace to be an experience. The service dimension of Hekla creates human value in a bright, comfortable and pleasant place," added Hines' Senior Managing Director and Head of France, Xavier Musseau.
Think of Helka as a cutting-edge, irresistible workplace, with the amenities and services of a world-class hotel.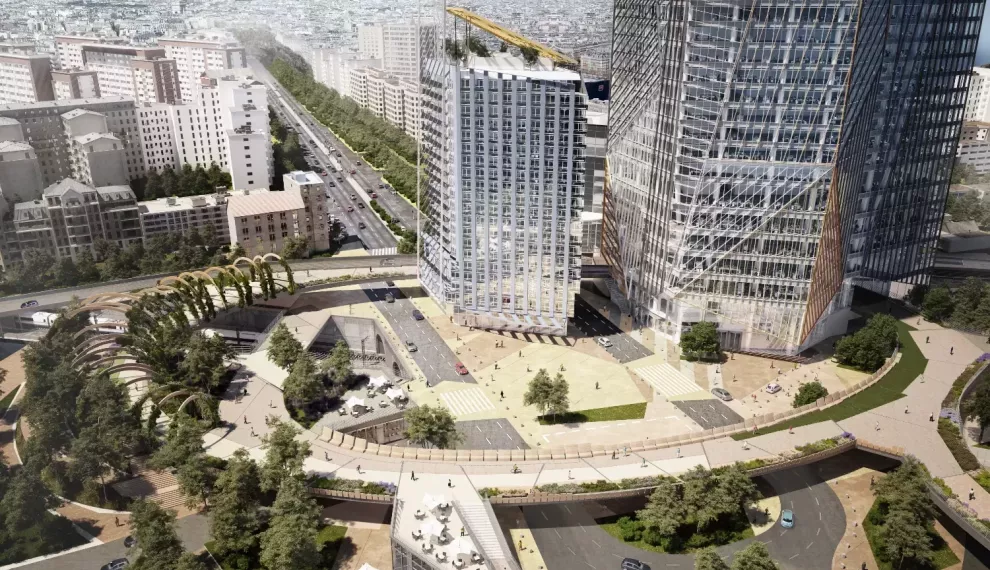 The new art of working demands novel environments
Tour Hekla was built to support property occupants' ESG objectives, and the proof is in the certifications it aims for, which include LEED Platinum, BREEAM Excellent, HQE, WELL Fold, Wiredscore, and Effinergie+.
Yet far more than any technical designation can hold, these values come alive in the day-to-day reality of employees. Following are key examples of Tour Hekla's ESG commitments:
Environmental design leadership: Hekla stands in an area that aims to become the first post-carbon business district in the world. Its relatively small land footprint of 1,900 square meters represents best-in-class high-rise construction for a more sustainable future.

Mental well-being: The tower's design supports several wellness features including expansive, comfortable interiors with high ceilings, 2,500 square meters of outdoor space including roof space featuring a suspended garden. And inspiration is always readily available in the form of unobstructed views across the capital, the business district, the Bois de Boulogne and western Paris.

Physical health: A state-of-the-art fitness center and wellness area helps employees stay fit. Other healthy design elements include a unique air handling system that uses independent, mini-air handling units to enable clean air quality and a healthy working environment—while reducing energy waste.

The property also supports walking and bicycling, with a major transit station located five minutes away on foot, and a parking lot large enough to accommodate 600 bikes or scooters. From the base of the tower stretches a 500-meter-long pedestrian promenade—transformed in the spirit of the New York High Line, and offering greenery, sports and leisure opportunity.

Socialization: Like a five-star hotel, Hekla offers users optimal experiences and an open invitation to connect. Inviting people in from the moment they pass the door are two vast lobbies and a "welcome café" and concierge services. Further inside, employees might utilize the business center, or meet up in a coworking space or the onsite brasserie, bistro, food court, or sky bar.
Spectacular from a distance — and on the inside, too
Tour Hekla is one of the most ambitious developments in Paris and La Défense in recent years. Its audacious design is already shaping the future of workplace design: creative, sustainable, community-driven spaces, one bold high-rise at a time.
Learn more by visiting: Hekla: Future in France