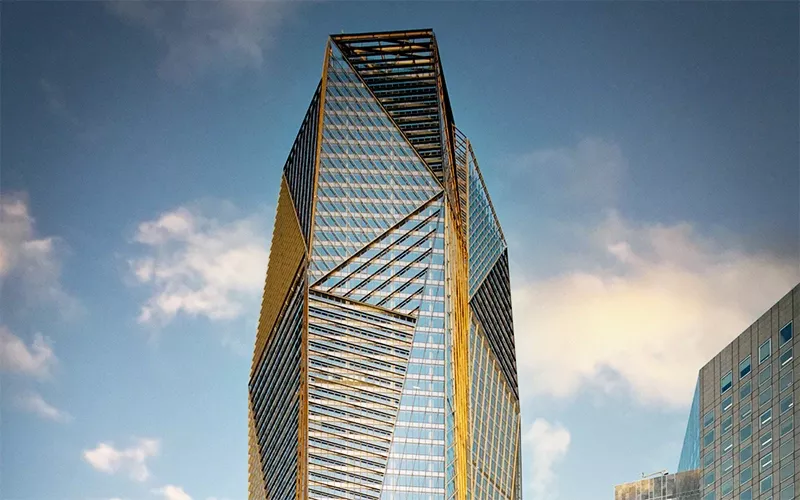 What's the Point?
In the world of commercial real estate, some of the most incredible projects take years of time and effort. With HEKLA in Paris, it is obvious that achieving new standards and elevating the built environment—literally and figuratively—are worth the wait.
HEKLA is the result of 10 years of close collaboration between Ateliers Jean Nouvel, the world-renowned architect Jean Nouvel's agency; Hines and AG Real Estate, leaders in commercial real estate; Amundi Immobilier and Primonial REIM, investment managers committed to the development of this emblematic project; and Bateg, a subsidiary of leading construction firm VINCI Construction France.
President of Hines France Xavier Musseau is proud of the addition to the city and excited for what HEKLA represents. "Beyond its unique and iconic architecture, this tower embodies Hines' values: It is an asset at the highest level of environmental engagement and will provide an incredible experience to its future tenants, especially through its amenities, contributing to making their workplace a singular and attractive destination."
HEKLA, the winner of a competition initiated by Paris La Défense in 2012, was inspired by the "forumme triangular building" in shades of amber, with Jean Nouvel imagining an aesthetic envelope with many polychrome brise-soleils that, together with the high-performing glass on the building's façade, regulate the heat. The famous architect envisioned a building that would enhance and redefine the skyline of the district through its striking, slender appearance, drawing on a prismatic composition with alternating glass and matte.
Origami was also an inspiration, as the tower's triangular footprint and 20 glass sides evoke the careful folding and unfolding of paper characteristic of the craft. The interplay of its glass and metal curtain wall façade also gives it the literal appearance of a shard of glass, with the facets playing with light and reflections of the environment—both interior and the natural world around it.
The 49-story, 818,056-square-foot skyscraper—now one of the tallest buildings in France—has ESG at the core of its design. HEKLA features an innovative system of independent mini air handling units that treat the in-office air and decentralize ventilation; optimized lighting and water consumption; and 2,500 square meters of green space. Furthermore, it is aiming for triple certification: HQE Exceptional, BREEAM Excellent and LEED Platinum, as well as the Effinergie+ label for energy performance and WELL Gold certification for building influence on employee experience and health.
In line with our view on placemaking, HEKLA is designed to be far more than just an office, instead standing as the pinnacle of what new ways of working can be. With its focus on well-being and recognition of changing workforce patterns in the age of hybridization, HEKLA was developed to meet the new aspirations of employees in their workplace—and even beyond its tenants, the tower will serve as a reinvigorated center of the community. HEKLA is highly amenitized, featuring two vast lobbies, an auditorium of 250 seats with an abundance of natural light, a welcome café with accompanying barista, concierge services, a business center, five distinct areas for leisure across three floors—with offerings including a contemporary café, brasserie, kiosks, bistro and food court—a fitness center, a wellness area, private lounges, coworking spaces and also a sky bar.
In France and internationally, HEKLA represents a particularly inspired and creative array in the corporate real estate sector—as much through its endeavor to offer a whole new experience as through its size and distinctive shape. This aligns perfectly with our mission at Hines to be innovative, to explore new ways of working, to reimagine what buildings can do and be, and to engage in projects that inspire and better communities.