Redefining downtown Omaha Nebraska's urban living experience
Beyond a mere residence, the innovative mixed-use development seamlessly integrates elements of nature, history, and urban living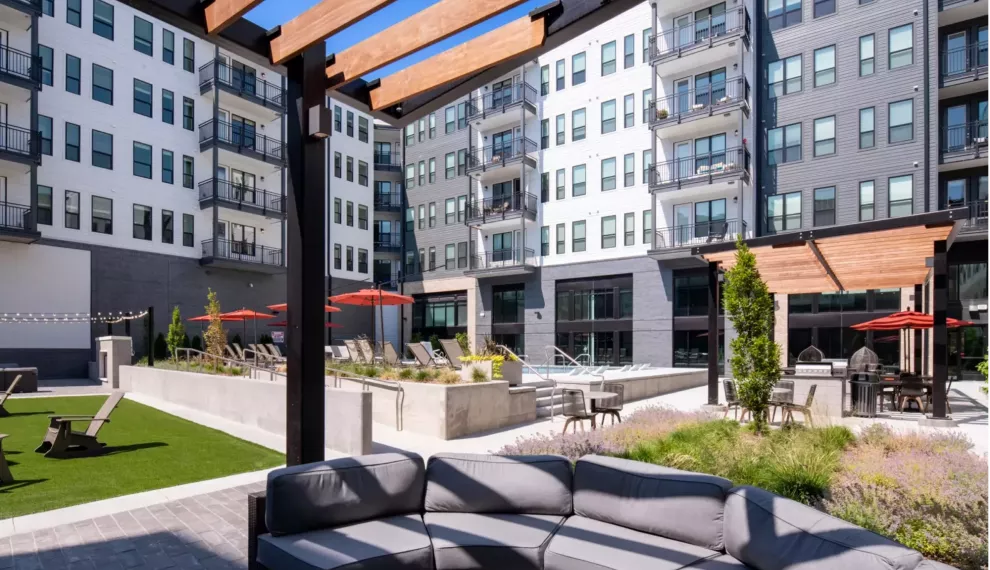 Caption The Mercantile - Omaha, Nebraska
What's the Point?
Brickline at the Mercantile is transforming the landscape of Omaha, Nebraska and redefining urban living in a heartland city in the United States. Brickline now serves as a centerpiece of downtown allowing residents to experience the best of Omaha's vibrant culture and historic charm.
Transforming Urban Living
The mixed-use redevelopment spans more than 20 acres, encompassing a diverse range of residential, commercial, retail, and green spaces. The project, at full completion, will comprise three modern city blocks, featuring a vibrant and pedestrian-friendly atmosphere highlighted by a spacious 35-foot-wide plaza.
Hines is excited to pursue the opportunity to acquire an infill site within downtown Omaha to suit the vision for the project. With its enviable position across from the iconic Old Market and unrivaled access to a brand-new $300-million public park, Brickline stands as a "city-defining" development that merges the best of nature, history, and urban living.
"We hope will enrich the city's identity, bringing people together to celebrate a shared sense of place," says Tom Darcy, senior managing director in the Midwest Region.
What makes Brickline truly distinct in Omaha is its scale. While typical projects in Omaha consist of roughly 100 units, Brickline boasts an impressive 389 units, delivered in over seven carefully planned phases. The scope of this development not only reflects Hines' commitment to creating a distinctive community but also allows for a superior range of amenities and an extensive diversity of unit types.
Brickline offers ample choices for residents with a variety of 31-unit types available, ranging from studios to one, two, and three-bedroom layouts that set new quality standards for the area.
Seamlessly Blending Urban Elements
Stretching across two blocks along the newly extended Harney and 8th streets, the development seamlessly wraps around a 640-car garage.
This transformative development revitalizes the community, drawing in residents of all ages to the downtown area, reversing the trend of migration to West Omaha over the years. In addition to its positive impact as a magnet within the community, the project provides vital support to local retail merchants and key employers such as Mutual of Omaha, Union Pacific, Conagra, Kiewit, and Berkshire Hathaway.
Locals are excited for the opening of three new and enticing food and beverage options in the coming months occupying approximately 16,000 rentable square feet since as well as the one-block integrated plaza that promises year-round programming for both residents and the wider community.
Brickline at the Mercantile represents more than just a local real estate project—it is a vision for a new way of living and experiencing downtown Omaha. The project is expected to be fully completed by year-end 2023.
Learn more by visiting: