The office with soul that's redefining the Toronto skyline
T3 Bayside's triple threat: Technology, coveted amenities, and sustainable design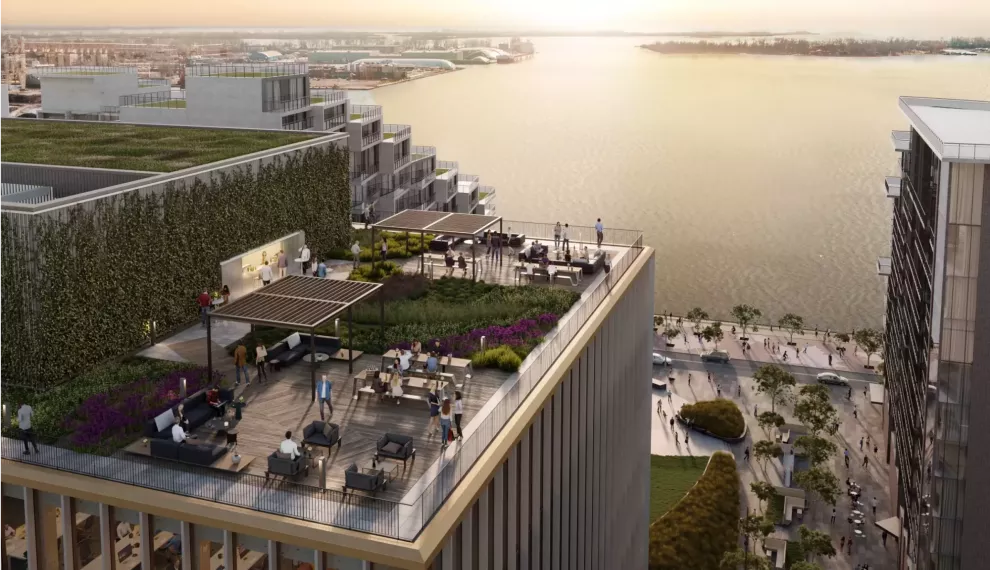 Caption T3 Bayside - Toronto
What's the Point?
In the heart of Toronto's newest and most dynamic live-work-play neighborhood, a new generation of creative office space is taking shape, positioned to inspire the world's most visionary teams. T3 Bayside seamlessly blends the authenticity of timber with modern amenities and innovative technologies, creating a workplace that fosters well-being, community, and collaboration.
Heritage character, future-forward amenities
With trailblazing design, commanding views of Lake Ontario, and direct parkland access, T3 Bayside provides an elevated work experience to inspire prize talent — and serve the surrounding area.
Designed by renowned Danish architecture firm 3XN and built on Hines' novel T3 — Timber, Transit, Technology — building model is set to become a landmark of sustainable, community-centric design. The 261,920 square feet office development combines the authenticity of timber structure with light, airy interiors, breathtaking waterfront views, and a commitment to community and sustainability.
As one of North America's tallest timber office buildings, the mass timber construction harkens back to the character and charm of exposed brick walls and well-weathered timber, while delivering high-performance, modern spaces sought by today's top talent.
Expansive 13' floor-to-floor heights framed by natural wood and infused with natural light bring the outside in, connecting employees with nature and creating an atmosphere that fosters well-being.
Moreover, this environmentally sustainable construction method replaces concrete and steel, aiming to significantly reduce the building's carbon footprint and contribute to a healthier climate future. Case in point: the development is currently targeting top benchmark standards such as LEED® Gold, Wired Platinum, and Well-Ready Certification.
Community and wellness: A creative workplace for creative humans
T3 Bayside's design goes beyond attractive office spaces; these are uber functional workplaces — with soul — that put well-being and happiness first.
Every space and amenity has been curated to enhance innovation, socialization and camaraderie, from sun-soaked lounges to flexible, collaborative spaces outfitted with the latest technology. And when bright minds need a break, an inviting rooftop deck with panoramic views of the lake and city provides an ideal setting for relaxation and rejuvenation.
Strategically located in Toronto's emerging Innovation Corridor, T3 Bayside joins a vibrant neighborhood with dynamic public spaces, fresh food markets, and easy access to public transportation. With private, dedicated transportation to Union Station and ample bike stalls, T3 Bayside promotes healthier, more sustainable commuting options, too.
A bold new landmark for Toronto
And just like the people working within these walls, the property itself is primed for growth, with a planned twin building sitting adjacent to the site that would bring another 251,000 square feet to the community. The property provides companies the opportunity to craft an authentic campus experience with shared amenities and workspaces connected via a retail plaza between buildings.
T3 Bayside offers a unique environment where people flourish, and in turn, businesses thrive. As leading companies continue to embrace a more sustainable and community-centric future, T3 Bayside stands tall as a testament to innovation and progress in the heart of one of Canada's most dynamic cities.