Connected buildings, connected people
Enhancing experience through a seamless digital ecosystem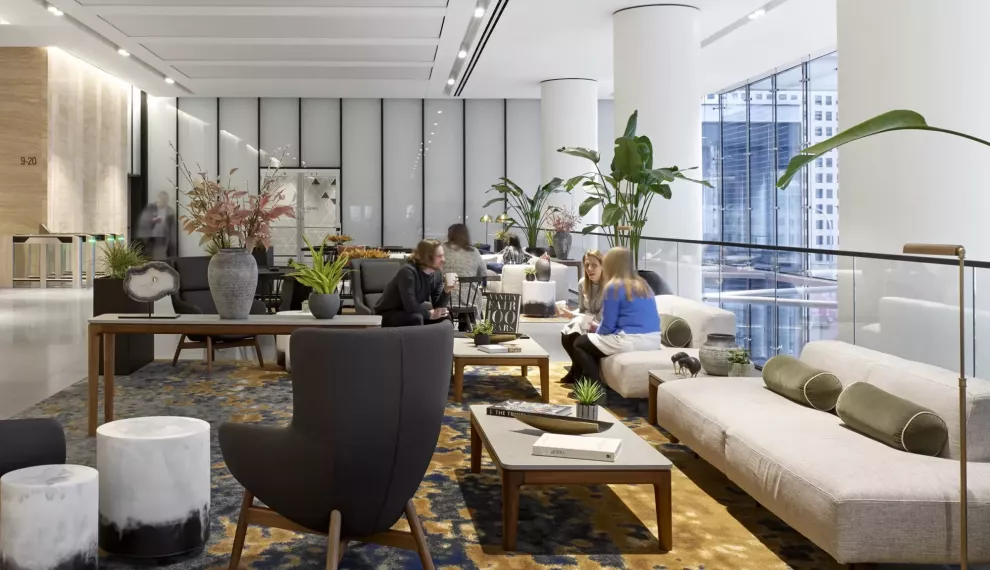 Caption CIBC Square - Toronto
What's the Point?
Embedded into daily life, mobile apps enable consumers to execute any number of daily tasks, from booking a vacation and playing an animated game to finding a date and reserving a table for two at a romantic restaurant. Mobile apps have come to corporate workplaces and office buildings, too, enabling employees to access services and amenities. Soon, a new kind of mobile app will enable employees to access amenities and spaces beyond the corporate office.
The secret behind the scenes? Smart building technology that integrates a property's back-end system with its front-end experiences.
Proptech is transforming the built environment
Property technology—proptech—has been transforming nearly every aspect of the commercial real estate industry in recent years. From smart elevators and intelligent lighting to virtual whiteboards and workspace reservation apps, digital technology has infiltrated the office.
Digital technologies bring many benefits to both occupants and workplace managers. For employees, a workplace mobile app can streamline mundane tasks like requesting audiovisual support and booking a conference room. For workplace managers, workplace and building technologies provide valuable data about how, when and where employees are using the building, and whether the building is performing efficiently.
The COVID-19 pandemic increased demand for technology-enabled, amenity-rich and environmentally sustainable buildings that support modern workplace concepts and meet employee expectations concerning health, wellbeing and environmental conservation. Younger workers, in particular, expect the office to offer technology as good or better than the tools they use in their personal lives and in their homes.
A new kind of mobile app
Long before the pandemic, mobile apps were becoming commonplace in corporate offices and some major office buildings. At the Hines-managed CIBC SQUARE in Toronto for example, tenants can reserve shared amenity spaces, view special offers available from local businesses, generate security QR codes for visitors and receive updates on building community events.
The next generation of the workplace mobile app will make even more options available at an employees' fingertips in an expansive digital experience. For example, a landlord could create a mobile app that gives users access to spaces and amenities in other buildings that the landlord operates in the area. With freedom to access a network of buildings, employees could realize not only greater convenience and productivity, but also health and wellness benefits—including social opportunities.
Through built-in access credentials, the app could enable an employee to visit a nearby building to use the fitness center, visit a pop-up store, reserve a shared conference room, an event lounge or a landlord-operated coworking center for a change of environment. For ease of use, the landlord's mobile app also could be integrated into a corporate tenant's own workplace app.
For the corporate tenant, the omni-app would provide a unique value-add for employees—with no additional expense. As companies seek creative ways to attract and retain employees, a workplace that offers a neighborhood of amenities and services could potentially provide a strategic advantage in the competition for talent.
The future of connected people and spaces is here
Behind the scenes, the landlord's mobile app would generate valuable data for landlords and property managers seeking an edge over competing buildings. Data-driven insights would provide valuable—and actionable—intelligence about building occupancy, space utilization and employee preferences to inform future decisions about amenities and experiences to offer.
Connecting a physical network of spaces and places through digital technology is not hypothetical—today's proptech innovations are already available to bring the concept to life. The integrated digital ecosystem that puts the employee experience at its center will soon be a reality.