How the new office lease is better for everyone
New approaches for a new era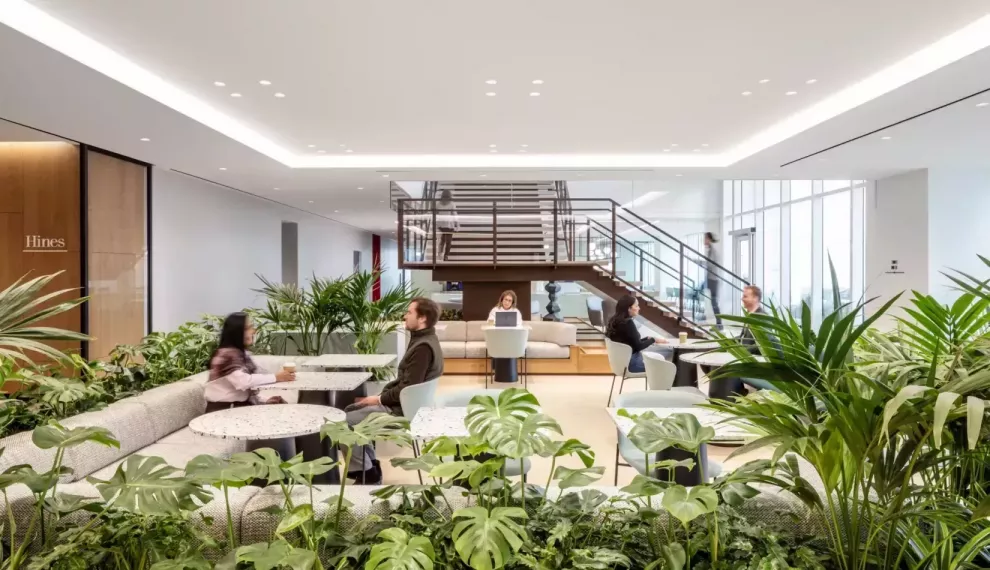 Caption Texas Tower - Houston
We're adding a new corporate leasing model – one that is responsive to our tenant-customers' goals and complements our conventional leasing. We are adding flexible product offerings and terms, network ecosystems across our geographic footprint, defining each asset's ESG mission, and expanding our customer/people-centric value proposition.

Steve Luthman, CEO Hines Midwest, Southeast & Canada
What's the Point?
As organizations grapple with hybrid work and fluctuating workplace occupancy, the need for real estate flexibility and agility has never been greater. Forward-looking landlords are anticipating ways to provide long-term, medium-term, short-term and on-demand spaces within a single hybrid lease agreement to make the process more efficient and better suited to the purpose-driven office of today.
Hybrid work options are transforming employee expectations—and corporate real estate norms. The amount of space a company requires may shift by the day or the week or the month, while offices are often half-empty. New ways of working and evolving employee preferences are providing both building owners and occupiers the opportunity to reevaluate their leasing practices.
Average space utilization has declined dramatically in corporate workplaces that have embraced hybrid working. Yet, organizations also need to accommodate occasional high-occupancy days while providing a high-quality workplace experience for all.
Flexibility is the key to meeting these competing workplace demands. As a result, 10- and 15-year leases may remain the norm for headquarters space—but for less square footage than in the past—and corporate tenants will also want to secure mid-term, short-term and on-demand space in their portfolios.
"Think of it like a master services agreement or another type of corporate contract, where there's a main agreement and then contractual addenda that are added on an 'as needed' basis," explains Hines Director of Workplace Operations Annie Draper.
According to Draper, a number of corporations want coworking spaces or short-term "swing" spaces in the same facility as their headquarters offices. "It's a smart strategic move right now to reduce long-term overhead costs yet build in the flexibility that the occupier needs to ensure a seamless experience for their people," says Draper.
The new hybrid lease
Undoubtedly, some landlords will adapt to changing corporate needs by offering hybrid leases—all-in-one leases that combine the traditional long-term commitment for headquarters space with options for short-term and on-demand, on-site coworking space. Corporate occupiers will pay higher rents for their short-term space options, but their total expense will likely be lower than with the traditional lease of the past.
With greater access to data about real-world preferences, savvy landlords and brokers will take a consultative approach to help tenants refine their space requirements and secure the right mix of spaces and amenities.
Creating a hybrid lease ultimately may become as efficient as generating a standard short-term contract. If the tenant needs extra training rooms for a month, for example, the space can be included as a lease addendum that can be negotiated in just a few days.
Meanwhile, the competition for talent in many industries has made workplace strategy a critical talent retention and recruitment tool, and on-demand options such as coworking spaces can help provide a positive workplace experience. With unemployment at a 50-year low, employers need to do all they can to delight and inspire their employees in the workplace.
Leasing, Unencumbered: New Approaches for a New Era