Pioneering a $50 Million Equity Initiative in St. Petersburg
A vision of the future in Hines' historic development with the Tampa Bay Rays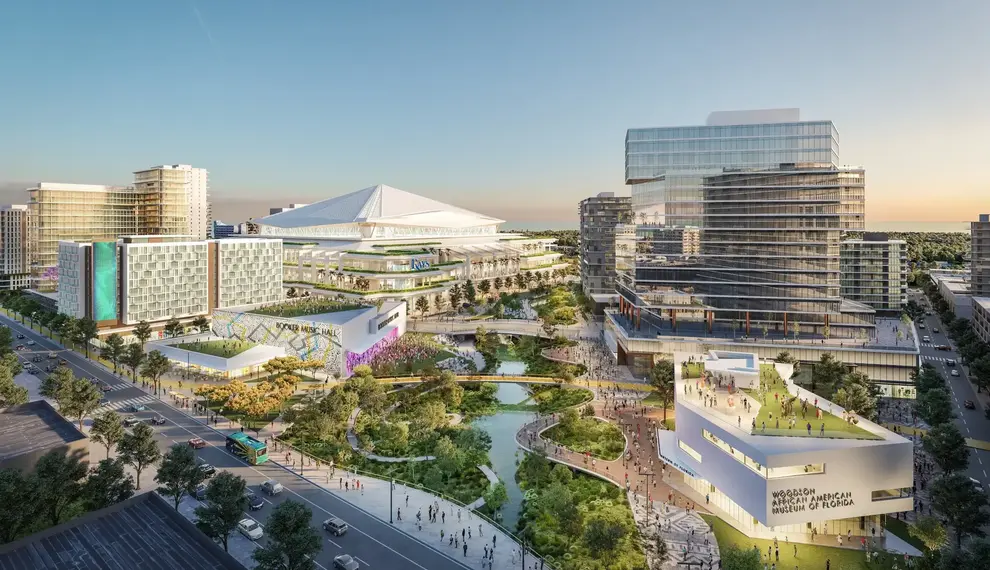 Caption The project will include nearly eight million square feet of mixed-use development and a new state-of-the-art ballpark for Tampa
What's the Point?
Transforming a ballpark is not merely about erecting magnificent structures or forming strategic partnerships. At its core, it's an equity commitment that transcends the physical and delves deep into the community fabric, fostering support for the city and its residents.
In a partnership with the City of St. Petersburg, Florida and Pinellas County, a new vision is set to unfold. Focused on transformation and community upliftment, this venture seeks to repurpose the 86-acre site of the Tampa Bay Rays' current stadium into an innovative ballpark and mixed-use development. This project stands as a testament to what can be achieved when community values, progressive thinking, and a commitment to equity intersect.
This initiative is more than just a real estate development - it's a $6.5 billion investment in St. Petersburg's future over the next 20 years. With nearly eight million square feet of mixed-use development planned, this is set to be the largest project of its kind in Tampa Bay history.
At the heart of this venture is a steadfast commitment to creating sustainable, inclusive communities. A total of 1,200 affordable and workforce housing units are planned, ensuring that everyone has a place in the new landscape of St. Petersburg. Half of these units will be built on the Historic Gas Plant site, including dedicated affordable units for seniors.
Our commitment to equity isn't just about housing—it's a comprehensive, $50 million pledge in collaboration with South St. Petersburg. This pledge fuels initiatives that span affordable housing funding, support for employment and businesses, education programs, and hiring commitments for Minority/Women-Owned Business Enterprises. But it's not just us at Hines driving these changes. The guiding light behind these initiatives is Anddrikk Frazier, President and CEO, along with his team at Best Source Consulting. With their expertise and unwavering commitment, they're guiding us at Hines, ensuring our actions align with our core values and that our impact reaches as far and deep as possible.
This development aims to honor the legacy of the Historic Gas Plant neighborhood's residents and businesses. The benefits and economic impacts will be delivered in an equitable, intentional, and restorative manner, ensuring the local community thrives alongside the development.
Once completed, this transformative project will feature a diverse mix of spaces. From residential to commercial, recreational to cultural, the development will offer something for everyone. The new neighborhood ballpark, with a capacity of around 30,000 for baseball and up to 35,000 for other events, will provide a unique fan experience.
Construction is projected to begin in late 2024, with the development and the new ballpark ready by Opening Day 2028. This project is more than just bricks and mortar - it's about building a better future for all in St. Petersburg. Through intentional equity initiatives and a commitment to diversity, this project is set to redefine what's possible in community-focused real estate development.