Employee priorities are reshaping office design
Redrawing the lines: Office layouts in 2023 and beyond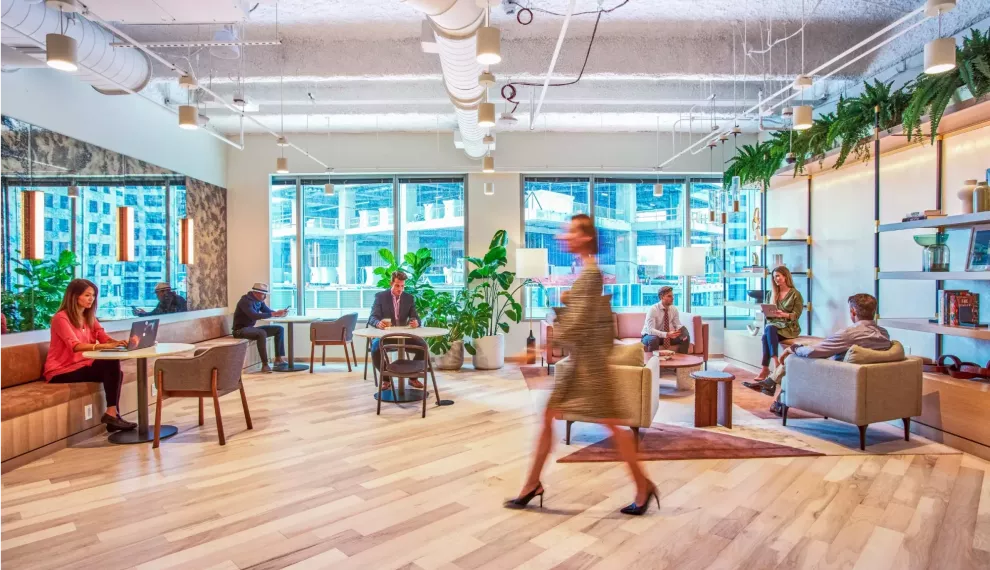 Caption The Square - Texas Tower
What's the Point?
With the rise of hybrid working, the office is changing shape. Yesterday's one-desk-per-person workplace has been replaced by a diverse array of new kinds of workspaces for different activities.
In the quest to bring employees to the office, companies are recognizing that the corporate workplace now competes with other options for workspace. With a greater variety of settings, supported by workplace technologies, the office can win.
From Individual to Communal
With office attendance approximately 30% below pre-pandemic levels in the global growth cities, according to McKinsey research, employers are seizing the moment to reshape the design, footprint and style of their offices. Leading organizations are creating purpose-driven, activity-based environments aligned with their culture and brand, providing the collaboration and connection opportunities that employees crave in the hybrid work era.
Office redesigns reflect today's shifting priorities. In 2019, 67% of the typical office comprised individual workspaces and 33% consisted of conference rooms or other group spaces, according to research from Cushman and Wakefield. Today, those proportions have been reversed. Now, 67% of the office comprises communal spaces, while only 33% is dedicated to individual workspaces.
Activity-based Design Goes Mainstream
Activity-based workplace design has been a growing trend for years, and hybrid work has created a new mandate for the concept. Rather than offering a "cube farm" and formal conference rooms, activity-based design focuses on all the different ways in which employees might spend their workday.
For example, office phone booths are popular not only for videoconference calls, but also for solo concentration free of distractions. Other new types of quiet spaces include tall-sided chairs with laptop tables and soft seating nooks.
With well-being as a new employee priority, some offices now offer areas for retreat and renewal. These spaces may include a technology-free zone, a yoga and stretching spot or a meditation room.
At the opposite end of the spectrum is the buzzy coffee bar, café or café-work lounge where people can work solo or in groups. Restaurant-style booths offer a spot for semi-private conversations. And in some cases, even the walls are flexible – casual meetings and get togethers occur in informal collaboration spaces with re-arrangeable seating and moveable walls. Of course, private enclosed conference rooms are still needed—but as only one available type of meeting space.
Welcome to the Neighborhood
Because collaborating with colleagues is a major reason to come to the office, forward-looking organizations are making it easier for people to work together. Today's scheduling technology allows team members to book time in the office at the same time within the same work "neighborhood."
An office neighborhood is a dedicated area for a particular group of employees, such as a marketing or sales department, a project team, or employees who perform similar types of work. A neighborhood might include certain equipment, such as large monitors, interactive whiteboards, printers or break-out rooms.
With a dedicated work neighborhood, employees can make the most of their time in the office. However, the neighborhood doesn't necessarily have to offer dedicated workspaces. Instead, workspaces are made up of "hot desks"—unassigned and available by reservation through a workplace application.
Keep it Flexible
As employee preferences and work itself continue to evolve, more companies are finding creative ways to enable the office to evolve, too. Modular design, involving movable acoustic panels and curtains, movable shelves, storage units and room dividers, enable employees to repurpose a space for multiple uses. Multi-functional spaces provide collaboration spaces that can be scaled up or down according to need.
For example, seating cubes can be easily stored and arranged to create small-scale auditorium seating for group assemblies. When not needed for group meetings, the space can be reconfigured as open-plan workspace. Movable walls and shelves serve double-duty as flexible partitions to create ad-hoc meeting spaces of variable sizes.
Borrowing from "Third Places"
While many employees prefer their home office, the widespread availability of Wi-Fi and mobile devices has made work possible almost anywhere. Coffee shops, libraries, coworking offices and even hotel lobbies have become "third places" to work—more relaxed than the office, but more social than the home office.
Some employers are incorporating these "third place" environments into the workplace. Cafés and coffee lounges are practically a must-have, for example. A space for quiet work may be called "the library" even when books are not the point . Outdoor patios or terraces provide employees with the benefits of proximity to fresh air, plants and open space.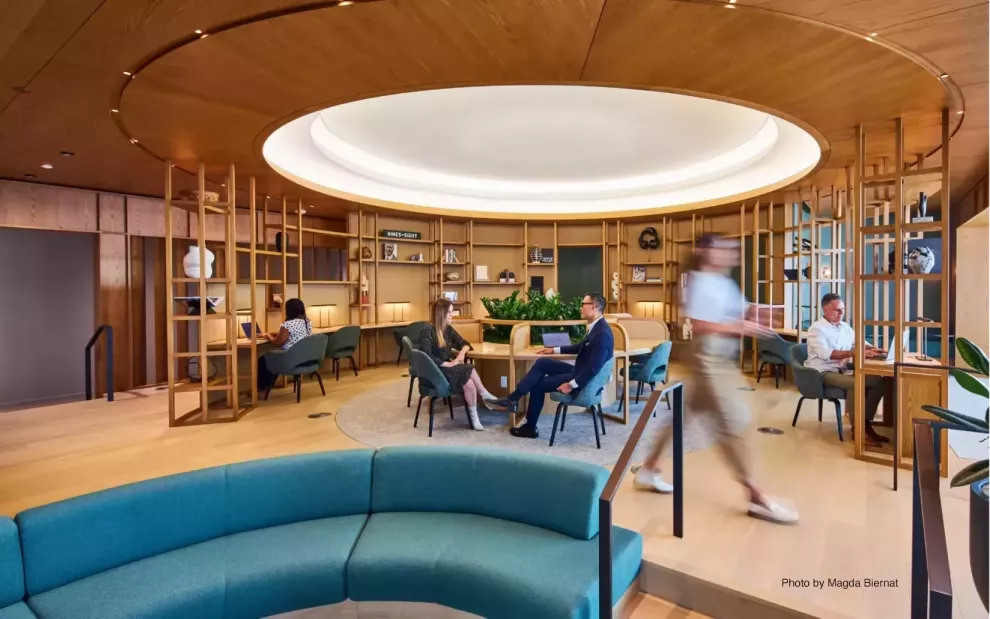 Caption A favorite focus area is the library at Hines Global Headquarters in Texas Tower
These alternative settings can be ideal for fostering serendipitous encounters between colleagues—the informal interactions considered fundamental for fostering innovation and productive workplace relationships.
To attract and retain top talent and encourage employee preference for the company, consider how employee priorities are reshaping office design. By building options and flexibility into office design, an organization can offer a compelling answer to the lingering question: where would you like to work today?