T3 Sterling Road: The new standard in workplace connectivity
In this vibrant mass timber office location, trends aren't followed — it's where they're launched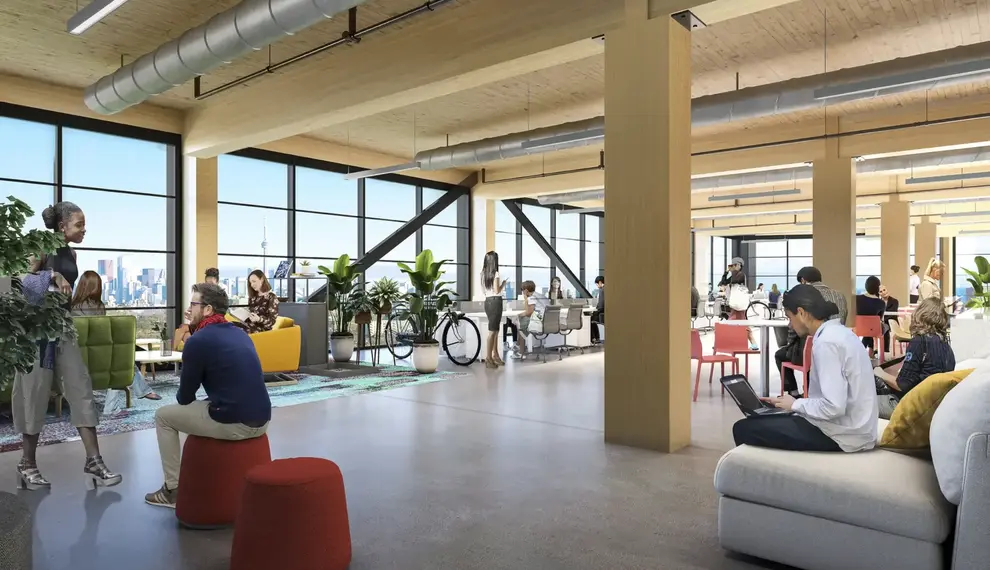 Caption T3 Sterling Road - Toronto
What's the Point?
Rich in industrial soul and packed with modern amenities, the mass timber creative offices at T3 Sterling Road are winning over talent in the heart of Toronto's artist and maker scene: the Junction Triangle.
Shaping the connective experience modern teams want
Today's talent crave memorable, amenity-rich work and social environments in coveted locations — and that's exactly what T3 Sterling Road delivers.
Located in Toronto's dynamic Junction Triangle neighborhood, Hines' visionary Timber, Talent and Technology (T3) concept offers warm interiors, industrial character and next-generation sustainability across two buildings, each wired for endless possibility. The first phase, comprising two buildings, is set to be completed by the end of October.
Inside, employees and visitors enjoy open floorplans, airy 11' 9" ceilings, and floor-to-ceiling warehouse-style windows that bring natural light deep inside the buildings. They connect over new ideas in shared social workspaces and chef-driven restaurants or get the endorphins flowing in the club-caliber fitness center. From there they might seek inspiration from rooftop terraces with sweeping skyline views, or from the private tenant balconies that grace each floor — a rarity in this northern business hub.
Stepping outside the front doors, the best of the Junction Triangle awaits, including Toronto's Museum of Contemporary Art (MOCA), trendy breweries, and a scene that's often sparkling with energy, as evidenced by its stints as home to a Banksy exhibit and backdrop for a Drake music video.
T3 Sterling Road also hits all the targets it takes to deepen employee pride and connection: Rick Hansen Foundation Accessibility Certification, LEED® Gold, Wired Score Platinum with 5G capacity, and WELL certification. Plus, it boasts a perfect Transit Score of 100 with multiple transit connections and a best-in-class end-of-trip facilities with indoor bike parking for a seamless journey to the office – no matter where employees are coming from.
Positive connections, multiplied across the community
Visionary thinking isn't just embedded in the design. An auto manufacturing plant once occupied the site where T3 Sterling Road now stands, as part of a vibrant 1.1m mixed use master plan to revitalize the location. By choosing this particular site — a former brownfield — Hines sought to continue its quest to find value where others haven't, and in turn, drive positive connections across the community.
Already T3 Sterling Road is actively contributing to the area's rich culture. For example, the project partners have invested a total of $500,000 in public art for the project from diverse artists from the local community. They've also created "pocket parks," new public spaces located throughout the 2.7-acre campus .
And thanks to a partnership with MOCA, visitors to T3 Sterling Road's park can look forward to and participate in programming throughout the year — from public art exhibits and cultural events to food trucks, social gatherings and more.
An instant magnet for bright minds
T3 Sterling Road connects people on multiple levels, pairing sophisticated, enticing design, technology and amenities with transformative location selection.
It is, of course, the people who give a workplace its soul. By shaping a menu of connective spaces where thinkers, makers and doers unite, T3 Sterling Road inspires top talent to show up with heart.