The hybridization of the workplace
Finding the new opportunity in office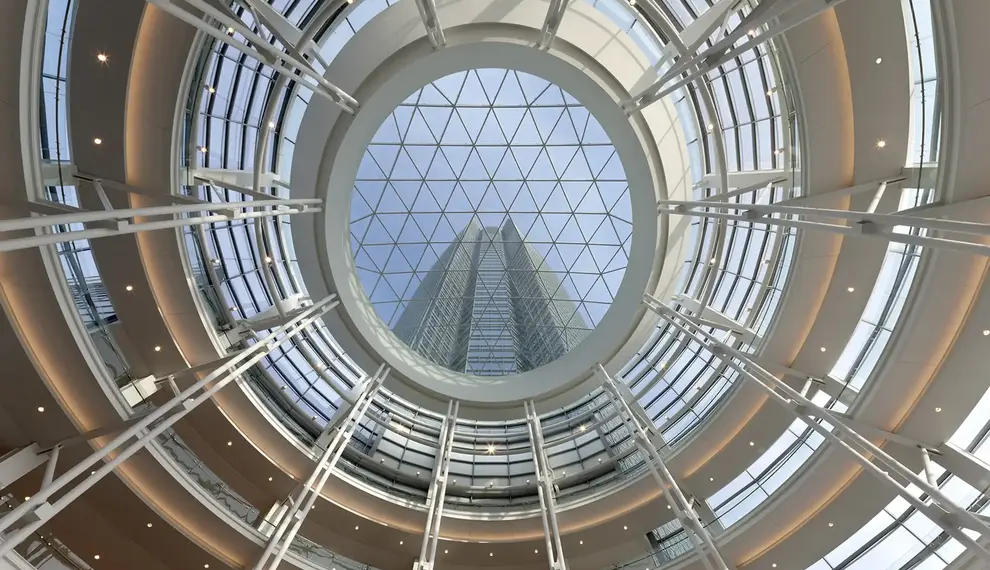 Caption Devon Energy Corporation Headquarters - Oklahoma City, OK
What's the Point?
Two years ago, the common lament was "things will be back to normal once everyone returns to work." Now, as we near the end of 2023, it is clear we have a different normal – one that varies by region, industry, and company. A July McKinsey Global Institute report1 explores the transformation of workplace dynamics, finding that:
Hybrid work is here to stay,
The ripple effect of hybridization is wide-ranging,
Behavioral changes substantially impact demand, and
Real estate is still inherently local.
On a recent episode of Deal Volume, a McKinsey podcast on private markets, Hines Global CIO, David Steinbach joined partner and host, Brian Vickery, to unpack the findings of the report and share perspectives on the future of office and real estate investment opportunities.
The State of Office – How Did We Get Here?
While the McKinsey report focused on changes in office over the last few years, Steinbach noted that COVID-19 wasn't necessarily the turning point, but an accelerant.
"A lot was occurring well before COVID-19 happened. Real estate was becoming a service industry, and a convergence of product types such as multifamily, retail, and even industrial was under way. In fact, the creation of ecosystems was driving performance in the market."
Steinbach added that 1980s tax reform was a catalyst for development (and in some cases, overdevelopment) in most markets. Some office buildings were not subsequently maintained well, and then the Fed enacted a policy that basically kept interest rates at near-zero for about 15 years. Rents continued to go up, but so did tenant incentives, distorting the supply and demand dynamic and tenant expectations.
Real Estate as an Experience
And while this process was playing out, real estate began transforming from a commodity to an experience posing a problem for owners whose properties were not fit for purpose. According to Steinbach, as real estate becomes more of a service industry, some of the brick-and-mortar elements are no longer as useful or relevant, but the "software" elements (what is executed inside the four walls) need to continue evolving to match changing preferences.
Finding Pockets of Opportunity
Steinbach further noted there were relevant parallels between today's office environment and the retail real estate outlook ten years ago when e-commerce began to explode.
"There was so much excitement about logistics and the opportunity there. It was certainly a deep pool of opportunity and demand; a lot needed to be built to service the emerging economy. At the same time, if you had painted a broad brush on retail and invested only in e-commerce, you would've missed a lot of opportunities. We saw that the best retail centers did well over the past ten years in terms of rents and footfall and were resilient through COVID-19."
With this lesson in mind, Steinbach cautions against making a similar mistake with office now. Opportunities exist for investors willing to rethink, reimagine and redevelop in order to adapt to new expectations and demographic shifts. For example, the McKinsey report finds that cities with dense office-centric layouts have had less foot traffic and population growth likely due to Millennials – a key driver of urban development as they graduated from universities –now becoming older and moving into different directions. By contrast, mixed used assets are seeing more traction as demand for convenience and experience grows. As employers seek to attract and retain employees, there is a new premium on social, creative, and collaborative spaces.
Remaking the Future of Real Estate
Steinbach points to data as a key differentiator in understanding what tenants want and need to propel a "new wave of thinking in terms of how we serve our tenants. There's an opportunity to remake what the future of our industry looks like."
Listen to the complete podcast here.
1 McKinsey Global Institute. "Empty Spaces and Hybrid Places: The Pandemic's Lasting Impact on Real Estate," Jan Mischke, Ryan Luby, Brian Vickery, et al., July 13, 2023