The multi-story warehouse - an important last-mile solution
What it will take for development to thrive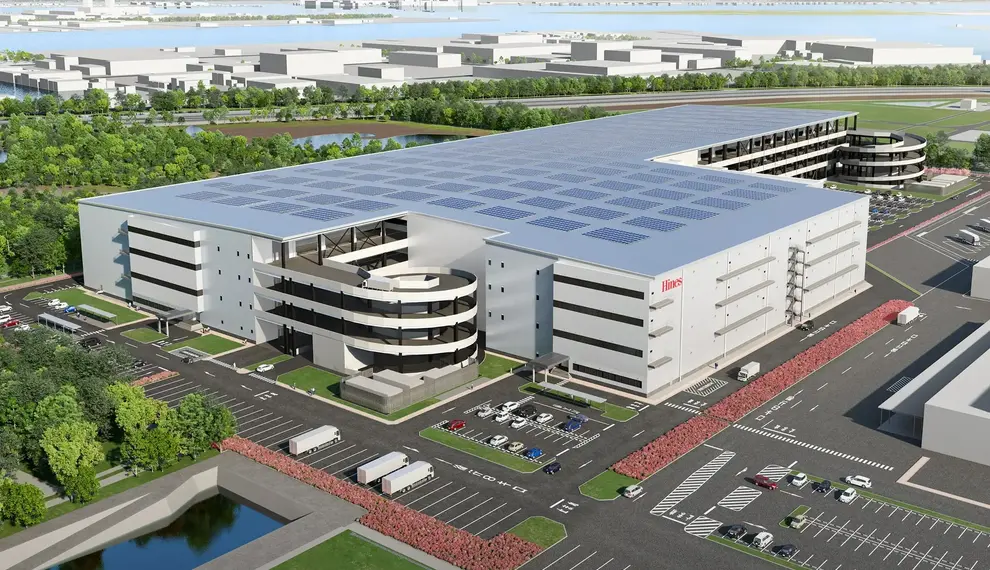 Caption Yatomi Distribution Center represents the first logistics acquisition and development for Hines in Japan
What's the Point?
Greater demand from e-commerce occupiers, changing consumer expectations and limited industrial land in prime locations has kick-started more conversations about the feasibility of multi-story warehouses. Consumers want products in their hands at lightning speed, and the real estate supporting last-mile logistics is critical to meeting that challenge. Where population is dense and land is constrained, the multi-story warehouse may be the answer.
The question remains: Is there enough demand for these complicated assets, and do their benefits outweigh their challenges?
A functional design, a pricey build
Warehouse North Point in Hong Kong – more than 70 years old -- is the earliest iteration of the multi-story warehouse, according to a recent report by CBRE. Since that time, projects have popped up primarily in densely populated areas of Asia and Europe. Multi-story warehouses are typically designed to feature three to four levels but have been known to reach heights of 22 stories in Asia. The tallest logistics asset that Hines owns is Bukit Batok Connection, a nine-story, 378,000-square-foot light industrial property in Singapore that features small format units with spaces ranging from 2,200 to 8,000 square feet.
Dense urban areas are not the only reason that these facilities are more common in EMEA and APAC. Traffic flows for both cars and trucks are a crucial consideration in designing a multi-story warehouse. Structurally, trucks need to be able to navigate the ramp structure. In the U.S. the standard truck size is 40 feet, compared to the shorter 25-foot truck in APAC and EMEA. Accommodating these vehicles is so difficult, it has prevented more of these facilities from being developed in North America.
Construction of a multi-story warehouse is complex, and costs can easily skyrocket to nearly double those of a traditional warehouse. The structures need to support large, heavy truck loads, which means they need to be reinforced with extra steel or concrete. Designs will include a set of ramps, freight lifts or conveyer system, allowing each floor to operate as an independent warehouse used by a single or multiple occupiers. These features ultimately reduce the leasable area to an average of 75%, which can impact operating income.
What's more, site selection must factor in regional considerations. Depending on the location, developers will need to understand and accommodate the area's specifications for building footprint, site conditions, height restrictions and sustainability requirements.
The U.S gets on board
In the U.S., multi-story projects only started popping up within the last five years, driven mostly by massive e-commerce providers. The first U.S. multi-story warehouse appeared in 2018 in the Georgetown Crossroads district of South Seattle. Projects in the U.S. have been limited to fewer than five stories, and typically feature multi-level loading docks and elevators able to carry forklifts. Seattle, New York City, Los Angeles and San Francisco all are home to these innovative developments.
Chicago saw a new project kick off in 2022 that will bring a 1.2 million-square-foot building in summer of 2024. Plans were recently announced to bring the tallest industrial building in New York City – more than 200 feet tall – to the borough of Queens. Multi-story warehouses can be a great solution for conversion of urban mid-century warehouses that have low ceiling heights of 15 to16 feet and poor column placement that make it difficult to maneuver large trucks.
Following Amazon's lead
Around the globe, advancements are continuing to be made in the design and delivery of these unique assets. Yatomi Distribution Center, a 2.4 million-square-foot project featuring a four-story logistics building, recently won Best Design, Industrial at the CPE Influence Awards. Other successful projects are being lauded as architectural and engineering marvels.
Yet without Amazon, this niche real estate asset class might be a non-starter. According to a Colliers report, 92%, or 75 million square feet, of Class A warehouse-distribution properties in the U.S. with more than three floors are occupied by Amazon. Eighteen million, or 70%, of projects currently under construction in the U.S. are slated to be occupied by Amazon.
Consensus points to a viable future for these properties, despite the higher rents required to justify the additional investment to build. The rent premium might make sense to many industrial tenants if they can reduce transportation costs via better-located last-mile facilities.
Interested in learning more? Visit our Industrial and Logistics webpage.