How can newly developed properties foster well-being?
Cherrywood Dublin puts community at the heart of Ireland's urban landscape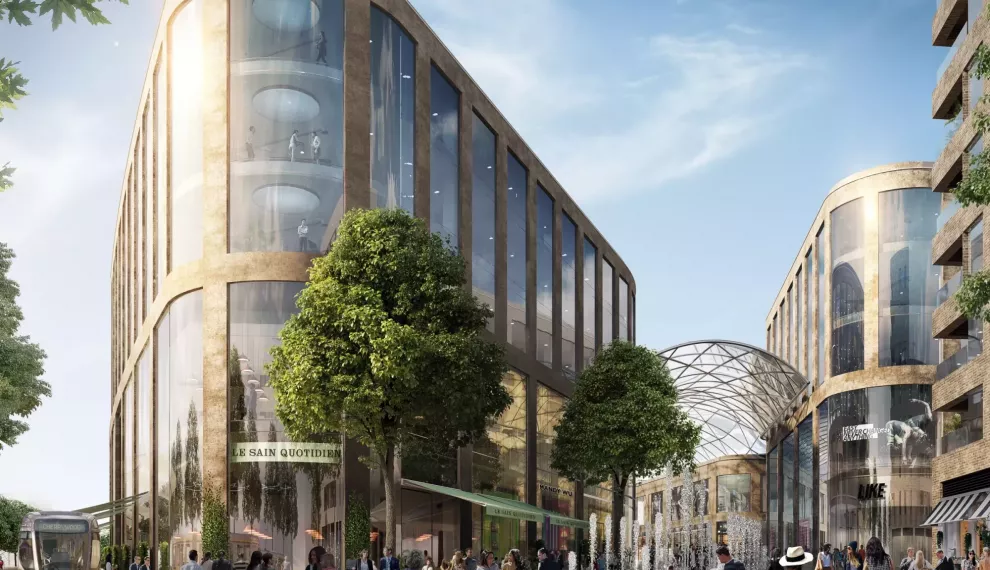 What's the Point?
Newly developed properties can do more for the people within them to thrive today. Hines' 388-acre, mixed-use community in South Dublin is already making an early impact, even though it is still under development.
Cherrywood in Dublin, Ireland is one of the largest urban developments soon-to-be delivered in Europe. Cherrywood represents a fresh new way of thinking about building communities that hope to earn enduring resident reception and strong investment returns. The development team's goal is to create a community that helps all parties, as well as the local community, thrive by starting with the needs of prospective office tenants and apartment residents.
Nestled at the foot of South Dublin's rolling mountains, and just above Dublin Bay is a flourishing environment that is literally a breath of fresh air. Originally a combination of a partially developed site and farmland, the Cherrywood lands have been successfully transformed into a high-density suburban center beginning in 2016, with additional improvements opening on a phased basis.
The 388-acre project's masterplan was designed to provide a state-of-the-art, sustainable, bicycle and pedestrian-friendly mixed-use urban development. It started as the vision of Dún Laoghaire-Rathdown County Council and was turned to Hines to propel it forward. Cherrywood now has all the things that make life fuller with 150 acres of new public parkland featuring 3,000 mature trees, as well as tennis courts, running tracks and playing fields. Hines also has further aspirations of developing a 100-acre native woodland into walking trails that serve the community.
In the heart of the development lies Cherrywood Town Centre, a residential-led mixed-use development made up of 1,270 apartments with retail shops, food and beverage and parking. The first families began moving into the Cherrywood Town Centre apartments in June 2022, and it is now home to over 800 residents.
The success of the project has required careful local stakeholder and community engagement from the outset. From the start, there has been a focus on the future and a drive to do things better. To establish a place with a sense of well-being, Cherrywood is future-proofed across all environments, and that goes right down to ESG credentials.
In 2022, Cherrywood was recognized by GRESB with five green stars out of five for a third year in a row topping its peer group once again with a total 2022 GRESB score of 99 out of 100. The project achieved four awards in total including:
Global Sector Leader - Mixed Use,
Global Non-listed Sector leader - Mixed Use,
Overall Regional Sector Leader, Europe - Mixed Use, and
Regional Non-listed Sector leader, Europe - Mixed Use.
Cherrywood Town Centre is also registered for WELL Community certification with plans to become the first WELL-certified development in Ireland. Through focusing on the WELL Community Standard, Cherrywood aims to ensure that the health and well-being standards of the external environment are optimized for the future residents of Cherrywood.
Today the infrastructure is now in place to support the construction of 8,000 new homes and six new schools. New homes are under construction by leading developers that will welcome 25,000 future residents.
Cherrywood's first primary school welcomed students into the first phase of the new state-of-the-art school facility in the fall of 2022. Hines donated the site for the school to the Department of Education in 2018 and when fully complete later this year, it will have a total of 24 classrooms and capacity for up to 700 pupils. Hines oversaw the planning and design of the new building in conjunction with the Department of Education, which has a large school hall, green roof, and large outdoor play area. The school, Cherrywood Educate Together, lies directly adjacent to Tully Park, one of the three new public parks that Hines has delivered. The expansive public parks along with over 5km of public roads and cycle paths will offer valuable outdoor recreation and educational opportunities for not only local schools but for the entire emerging town of Cherrywood.
It is crucial to constantly explore new ways to create opportunities for occupants to connect, grow and thrive in their spaces, as the impact of a property is not just measured by the final product. These early successes of Cherrywood highlight the importance of approaching every phase of the development process with a long-term mindset and a commitment to creating a sustainable, high-quality environment for occupants.