Strategies to encourage a high employee return rate
Balancing productivity and flexibility in the modern office workplace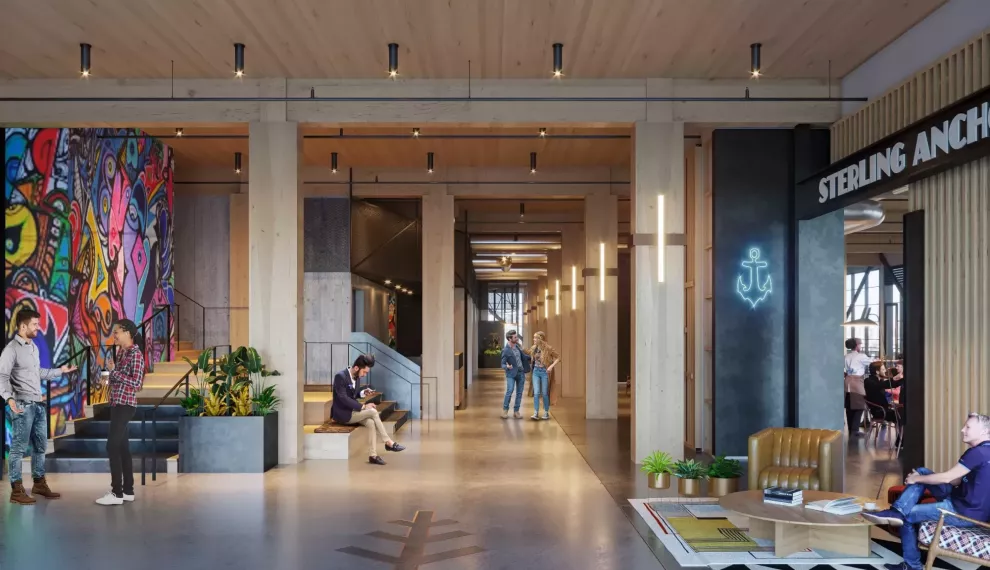 Caption T3 Sterling Road - Toronto
What's the Point?
The dynamics of the employer-employee relationship have undergone a significant transformation over the past three years. The recent revelation that productivity decreasing from home alongside employees' growing demands for flexible schedules fuels an ongoing debate between remote and on-site work policies.
Employees are advocating for options, flexibility, and tangible advantages to justify their commitment to commuting to the office. Employers must recognize and adapt to these shifting expectations by reimagining the purpose of the workplace and providing intentional opportunities for building community. In doing so, they can articulate and deliver on the value proposition that justifies the investment employees must now make when returning to the office. The spotlight falls on them to invest in their employees' return to the office.
The complexities and challenges of remote work
The allure of increased productivity and flexible schedules made working from home an enticing proposition over the past three years. However, as time has progressed and the world has adapted to this new normal, the initial charm of remote work seems to have lost its luster. Is working from home as productive and desirable as it once was?
In 2020, Natalia Emanuel and Emma Harrington, who were doctoral students at Harvard University, received significant attention for a working paper that examined the impact of remote work on employee productivity in an online retailer that shifted its operations from offices to homes. Initially, the results appeared promising, showing an 8% increase in the number of calls handled per hour by employees after the transition. However, the story took a different turn when a revised version of their paper with more precise data was published in May 2023 by the Federal Reserve Bank of New York, revealing a contrary finding—a 4% decline in efficiency. This revision shed light on the complexities and challenges of remote work, indicating that the increased productivity seen initially might not be sustainable in the long run1.
Shifting Expectations, the Need for Tangible Value
The traditional notion of a rigid 9-to-5 office environment has given way to a new paradigm where employees seek increased autonomy and flexibility. Knowledge workers in particular now expect more choices regarding their work arrangements. Hybrid schedules that blend remote and in-office work are the new baseline. As of October 2022, office workers were visiting the office about 3.5 days per week, according to research from McKinsey.
Approximately 94% of employees want flexible hours, while 79% of employees want location flexibility, according to a study by Cushman & Wakefield. Employees who are unsatisfied with their level of schedule flexibility are nearly three times more likely to look for a new job, according to the research. They desire a workplace that supports their individual needs and preferences, enabling them to achieve a healthy work-life balance.
Employees invest their time, money, and face multiple inconveniences when they commute to the office. In return, they expect the workplace to provide a significant return on this investment. In recognizing these shifting expectations, it's time for employers to be explicit about the value employees can expect when they do choose to commute. It's time to redefine the purpose of the office and acknowledge the unique benefits it offers over remote work.
Leading employers are examining what makes the thought of working in the office unappealing, removing those hurdles, and diving deep to understand what makes office life deliver a return on the investment – and what aspects of their workplace are magnetic enough to draw employees back day after day.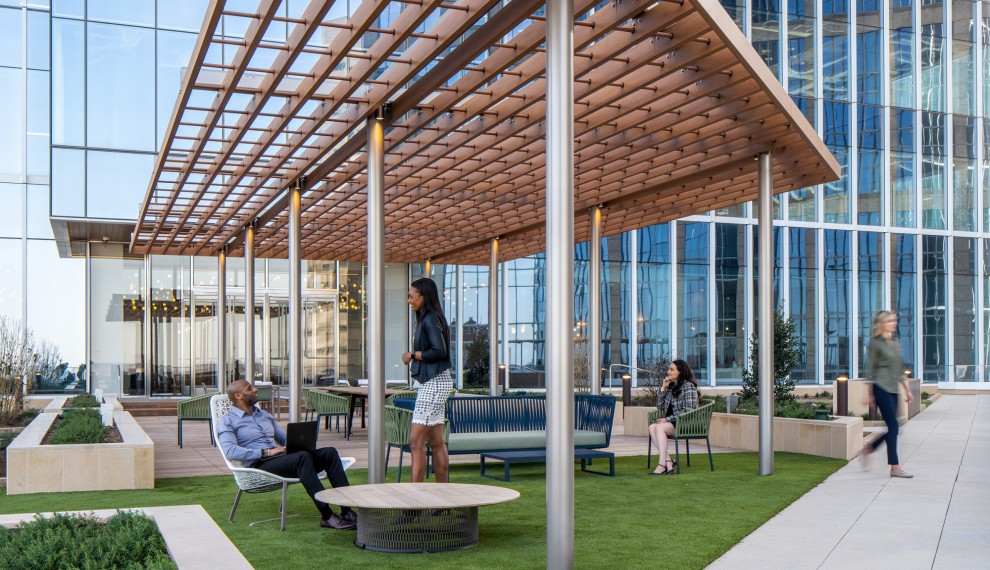 Caption Texas Tower - Houston
Articulating the Office's Purpose
Beyond basic functional requirements, such as collaboration or access to specialized equipment, the office can foster a sense of community, professional growth, and relationship building. Recognizing and embracing these aspects helps make returning to the office a more attractive proposition for employees.
Employees polled in the C&W research noted that the top five reasons for the office include socializing with their coworkers; collaborating on work with colleagues; separating work lives from personal lives to achieve work/life balance; accessing tools and physical resources that are unavailable elsewhere; and for company connection and culture.
Opportunities for Community Building, Understanding Demographics
Community building is central to the employee ROI. For early-stage professionals, and those seeking apprenticeship or mentorship, face-to-face interactions with colleagues and mentors are invaluable. A study by Gallup found that if you establish a close friendship with a colleague at your workplace, your likelihood of being engaged in your job increases by a factor of 72. Whether through office sports leagues, happy hours or casual lunches downtown, community bonds gained in the office are irreplaceable.
To nurture these connections, employers can facilitate networking events, mentorship programs, and collaborative spaces. By creating an environment that fosters relationships and knowledge-sharing, employees can find genuine value in coming to the office.
Knowing the demographics of their specific employee base helps employers identify the experiences that different populations will find most valuable. Millennials and Generation Z, for instance, often prioritize purposeful work, professional development, and social connections, according to McKinsey research. By tailoring the workplace experience to meet the expectations and needs of specific employee groups, employers can ensure a meaningful return on investment for their employees.
An Inter-Related Ecosystem
To provide employees with a compelling offer, employers should focus on creating an inter-related ecosystem within the office. The future is about convergence of places – office, retail, hospitality, cultural destinations – that create resilient long-term value in cities. In the office, this translates into integrated technology, intentionally designed collaborative spaces, walkable districts and spaces that foster cross-functional interactions. When employers cultivate an environment where ideas flow freely, employees feel motivated, their diverse perspectives are valued, and the office becomes a hub of innovation and growth.
The contract between employer and employee has evolved. By reimagining and adapting the purpose of the office, employers boost the value employees receive when they return, fostering engagement, productivity, and overall satisfaction.