Uniting for a greener future
Top five takeaways from NY Climate Week on net zero spaces and climate change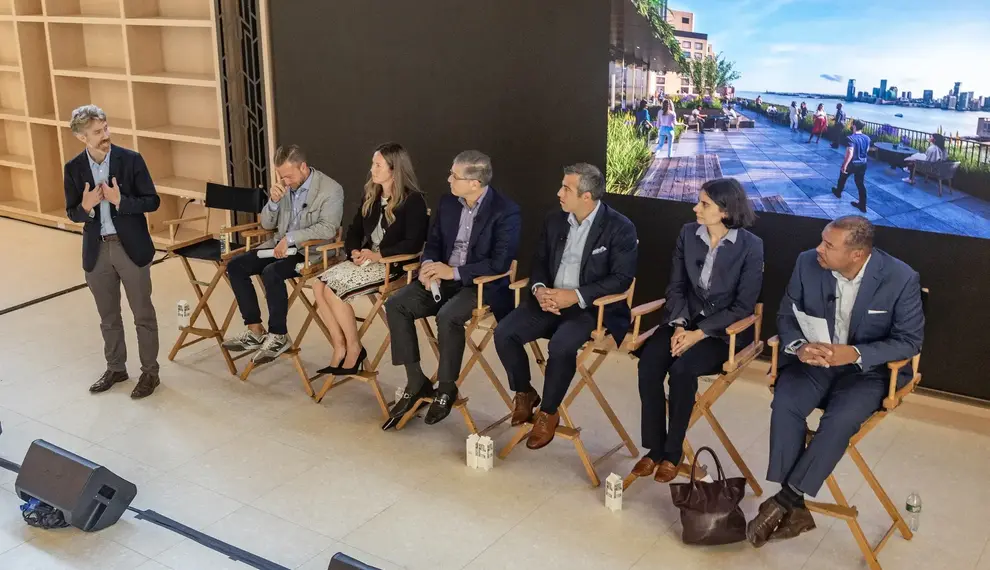 Caption From left to right: Michael Reed, the team lead of advanced efficiency solutions at NYSERDA; Jonathan Pearce, Head of Investments, Office, and Life Sciences for the United States at Ivanhoé Cambridge; Mark Grinis, Hospitality & Construction leader at EY Americas Real Estate; Matthew Felice, Executive Vice President at JLL; Jeanne Roig-Irwin, Partner at Clifford Chance; Andrew Cooke, Senior Vice President of Operations at Hines
What's the Point?
During New York Climate Week, Hines hosted a thought-provoking panel discussion, shedding light on the trials and triumphs of achieving net zero spaces and battling climate change. The conversation brought together the perspectives of occupiers and investors, providing invaluable insights into the fast-paced evolution of sustainability and implementing net zero strategies within real estate. Such cooperation could spur value creation, reduce risks, and ensure the long-term resilience of portfolios.
The event featured several notable speakers. Michael Reed, the team lead of advanced efficiency solutions at NYSERDA, delivered the keynote speech. Andrew Cooke, senior vice president of operations at Hines, moderated the discussion. The panel comprised Jonathan Pearce, head of investments, office, and life sciences for the United States at Ivanhoé Cambridge; Nina Galbiati, senior manager of real estate investments and global lead sustainability at Norges Bank Investment Management; Jeanne Roig-Irwin, partner at Clifford Chance; Mark Grinis, hospitality & construction leader at EY Americas Real Estate; and Matthew Felice, executive vice president at JLL.
Check out five important insights we gained from this enlightening conversation.
Focus on Challenges and Opportunities
The climate crisis has moved sustainable development from a desirable objective to an urgent need. The panel underscored the heightened importance of moving towards net zero spaces. This transition is filled with challenges, but it also opens up an array of opportunities that promise significant advantages for owners and tenants alike.
Wide Spectrum of Knowledge and Understanding
As with any emerging trend, there is a diverse range of knowledge and understanding concerning sustainability and net zero goals among tenants and owners. This spectrum presents an opportunity for leaders in the industry to educate and guide their peers toward more sustainable practices.
Challenges Owners Face
It's no secret that supplying net zero spaces comes with some serious obstacles. Owners must navigate long-term investments and practical considerations, all while ensuring a positive return on investment (ROI). A shift in perspective is vital, viewing these challenges as steppingstones towards long-term benefits, both financially and environmentally.
Tenants' Motivations
While tenants are increasingly interested in sustainability, they may not necessarily be willing to pay extra for it. Factors like location, amenities, and employee wellbeing still top their list of priorities. However, the panelists noted the potential for these interests to align if framed correctly, like positioning sustainable practices as integral to employee wellbeing and productivity.
The Power of Green Leases
Finally, the panel highlighted the potential of green leases as a useful tool. These can be used to bridge the gap between owners' and tenants' goals and responsibilities. Green leases, which need to be individualized to each specific situation, can align both parties towards shared ESG objectives and ensure that needed data is collected to track progress towards those goals.
In the spirit of collaboration and progress, the conversation from New York Climate Week provided a vibrant platform for exchanges on sustainable real estate strategies and showcased innovative solutions proposed by industry veterans. To not only achieve, but also maintain net zero spaces, it is essential to continue to work together, make conscious decisions, seek out new market opportunities, and further incentivize sustainable practices when possible.
Ultimately, collaboration between occupiers and investors presents a critical pathway to generating value while meeting sustainability goals.
We invite you to watch the full discussion from NY Climate Week.